Can a Woman Unite Basketball's Bickering Stars?
It's been a rough few weeks for women in sports. There's been little for us to celebrate -- until now.
by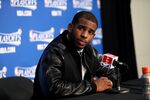 It's been a rough few weeks for women in sports.
Between talk radio hosts disparaging female sideline reporters, another respected reporter being sidelined herself, and the NFL sending the strong message that it simply doesn't care about its female fans, there's been little for us to celebrate -- until now.
On Tuesday, the National Basketball Players Association elected Michele Roberts as its new executive director -- the first female head of a major American sports union. She will succeed Billy Hunter, who was ousted 18 months ago amid accusations of nepotism, conflict of interest, and failing to represent the players' interests.
A partner at Skadden, the NBA's outside counsel, Roberts herself has not represented the league but has been hailed as one of the country's leading trial attorneys. Her experience in labor law was of particular interest to the dysfunctional, divided players' union.
Roberts will have her work cut out for her in the coming years before players and owners may opt out of the current CBA following the 2016-17 season. Owners came out on top with Hunter at the negotiating table during the 2011 lockout, which resulted in an agreement that reduced the players' share of Basketball Related Income from 57 to 50 percent -- a concession made all-the-more significant by the expected revenue boost from the renewal of national television contracts in 2016. (You can find a list of other concessions here, while Basketball Insiders has adeptly detailed the unintended consequences of those changes that were meant to restore competitive balance.)
Aside from what many players saw as Hunter's incompetence, however, Roberts' main goal heading into 2017 will be to unite a union ever-divided between its every-man and big-name players, with the added complication of sports agents and their own interests. All of this came into play in the very process of voting in Roberts, which was mired in delays and disagreements since Hunter was fired in February 2013. After narrowing down the field to two candidates following this year's All-Star Game, the search restarted with former All-Star and Sacramento Mayor Kevin Johnson as chairman of the search committee. Johnson dropped out of the process last week due to a "philosophical difference in how the search was handled in its later stages," USA Today's Sam Amick writes.
By then, Roberts had emerged as one of three finalists for the position, along with Dallas Mavericks president and CEO Terdema Ussery and Information Technology Industry Council president and CEO Dean Garfield. On Monday, hours before the vote was scheduled, several top agents revolted, urging the players to expand their candidate pool and advised their clients to refrain from voting. (Apparently they thought Roberts and Garfield were too unfamiliar with the NBA's mechanisms, while Ussery might be a little too familiar with league executives, having been one of them for 17 years.) Then, Jerry Stackhouse, who didn't actually have an official role in these proceedings, swooped in to voice his displeasure with the process and, in the words of one player in the room, "initiate a divide."
Eventually, Roberts received 32 of 36 votes from the executive committee, winning the job and the unenviable position of leading a union consisting of balkanized interests. We could talk about the strides female executives have made in sports, especially in the NBA, which boasts an impressive number of high-ranking women. We could also talk about how Roberts' election to head one of the few real unions we have left makes her the most powerful woman in organized labor. But that discussion is overshadowed by the sheer dysfunction of the group Roberts now finds herself leading. All signs point toward yet another lockout in 2017, and she has the seemingly daunting task of ensuring that her players present a united front in taking on a league of owners that greatly expanded its power in the last round of negotiation.
Roberts is up to the task. "We are going to have a team, a very strong team, what I call a team of gladiators, that's going to help these men and women, again, go in the direction they choose to go," America's most powerful female union boss said, channeling her inner Olivia Pope.
This column does not necessarily reflect the opinion of Bloomberg View's editorial board or Bloomberg LP, its owners and investors.