Tea Party Versus Chamber in the Bayou
The Chamber of Commerce has lately been rethinking its blind support of Republicans when it means filling Congress with Tea Partyers. 
by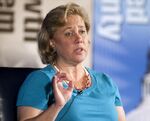 Fresh from helping save Senator Thad Cochran of Mississippi from a Tea Party upstart, the U.S. Chamber of Commerce is on the verge of endorsing an embattled Senate Democrat. According to the New York Times's Joe Nocera, national political director Rob Engstrom told the heads of the chamber's regional groups that the mother ship planned to support Louisiana's Mary L. Landrieu in a close race against three Republicans.