view
Player Punches Fiancee, NFL Slaps Wrist
The NFL made a meek attempt at damage control today, addressing Ray Rice's ineffectual two-game suspension in an interview that did the league more harm than good.
by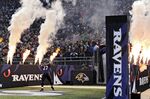 The National Football League made a meek attempt at damage control today, addressing its two-game suspension of Ray Rice in an interview that did the league more harm than good.
Adolpho Birch, NFL senior vice president of labor policy, appeared on ESPN Radio's "Mike and Mike" Monday morning, responding to the backlash surrounding the meager punishment levied on the Baltimore Ravens running back for uppercutting his then-fiancée and dragging her unconscious body out of a casino elevator. With Commissioner Roger Goodell still silent, Birch is the highest-ranking league official to address the suspension, offering answers that were strikingly tone-deaf, even by the NFL's standards.
Let's take this piece-by-piece.
Birch: "On balance, when we reviewed all the materials, the information, listened to the persons that we listened to, took the input of the Players' Association -- when we looked on balance at all of that, we believe that the discipline we issued is appropriate."
The league is sticking to its guns, contending that two games suffice based on a multitude of factors -- including, apparently, the NFLPA. Later in the interview, Birch would again bring up the union's role in supporting the decision. The NFLPA is one of the weakest players' unions in professional sports -- yet its opinion suddenly matters a great deal when it comes to the punishment for one of its own members committing domestic violence.
My reaction to hearing that the union "supported" the league's decision was similar to how I felt upon learning the "breaking news" this morning that Rice would not appeal his suspension, which I sincerely wish I could say had been more sophisticated than, "Duh."
Birch: "The discipline that was taken by the NFL is the only discipline that occurred with respect to Mr. Rice in this case. I think that were he not an NFL player, I don't know that he would have received any punishment from any other source....

"We can talk about the degree of discipline. We can talk about whether or not you think third parties need to be involved — I would suggest to you that a third party has been involved in this matter, and that was the court that reviewed it, the prosecutor that reviewed it."
It really takes some hubris to assert that not only was the paltry punishment enough, but that the league should be commended for having the courage to punish Rice at all. Noting that the court reviewed the case and decided against any disciplinary action is rather disingenuous: Rice was charged with third-degree aggravated assault, a felony, and must complete a year-long diversion program in order to avoid a trial and a possible sentence of three to five years. Upon successful completion of the program, Rice will avoid conviction and must steer clear of future infractions and continue counseling.
Furthermore, some might argue that it's precisely Rice's position as a famous football player that helped him avoid any significant legal consequences. Admittance to New Jersey's pretrial intervention program is highly subjective, up to the discretion of prosecutor and judge, the only tangible requirement being the absence of prior offenses. While domestic violence cases are eligible for pretrial intervention under New Jersey law, diversion programs are more commonly used for less serious, nonviolent crimes. According to Guideline 3 (i) in Rule 3:28 of the New Jersey Court Rules, "If the crime was ... deliberately committed with violence or threat of violence against another person ... the defendant's application should generally be rejected."
Birch: "Some of the things that we do on the discipline side with respect to the performance-enhancing substance policy, for example, are collectively bargained, and those are numbers that the league and the Players' Association have agreed to. These types of cases are not really subject to that form of set penalty, so there is more thought and judgment that has to be employed, and in this case, this is what the Commissioner felt was appropriate, and we support that, and the union has supported that result."
Much of the criticism has focused on comparing a two-game suspension for beating your significant other to the penalties of anywhere from four games to a full season handed down for performance-enhancing drugs and substance abuse. The league's response to this is rather cynical, if not unexpected. Herein lies the heart of the issue: Under the NFL's personal conduct policy, the disciplinary actions for PEDs and substance abuse are clearly defined, with minimum suspensions and fines agreed on by both league and union. Penalties for domestic violence infractions haven't been standardized under the current CBA, meaning the commissioner has much more wiggle room and autonomy in his decision.
As Birch noted later in the interview, "The Commissioner's authority in this case doesn't provide for a particular ceiling on what he could do," meaning Goodell could have sent a strong message that the league does not tolerate domestic violence. Instead, he threw Rice a softball that could have far-reaching consequences beyond this single case.
Birch: "There are a variety of things we can review that give us some perspective on what has been done, which allows us to determine what should be done....

"The Commissioner's authority in this case doesn't provide for a particular ceiling on what he could do. However, we are bound in large part by precedent in prior cases, decisions that have been heard on appeal in the past, and notions of fairness and appropriateness. You have to look at what would happen relative to other leagues, other organizations, other entities, and determine if you think the action the Commissioner took is appropriate. The reality is that we have to make decisions that are fair and consistent with both the prior case law and the prior precedent but also the message that we need to send as a league to ensure that people understand the standards of conduct expected of them."
When Birch was asked to comment on the disparity between Rice's suspension and those of others, including the six-game penalty (eventually reduced to four) given to Ben Roethlisberger for an alleged sexual assault that also never went to trial, he said, "I don't think it is particularly appropriate to weigh each case against itself on all its facts." But in attempting to explain the different factors that went into the league's decision, Birch contradicted himself, specifically pointing to the precedent set by prior cases.
In examining Rice's case against prior instances such as Roethlisberger's, it's difficult to find any consistency in the severity of NFL player discipline. That said, Rice's light penalty could set yet another dubious precedent on which the league may base future, similarly inadequate punishments. Players including Greg Hardy and Daryl Washington, who are awaiting disciplinary action for their own domestic violence charges, can point to the two-game baseline now set by the league. And in 2020, when the CBA is set to expire and the league could actually make good on its promise to do something about its domestic violence problem, like institute minimum penalties, the bar will have been set tragically low.
Which brings us to ...
Birch: "I think if you're any player and you believe that based on this decision that it's okay to go out and commit that type of conduct, I think that's something that I would, I would suggest to you that no player is going to go out and do that. So in terms of sending a message about what the league stands for, we've done that....

"If it's a question of what the principle of the league is and what standards we stand by, that cannot be questioned. I think it is absolutely clear to all involved that the NFL does not condone domestic violence in any way and will not tolerate it in our league."
The only message the league sent to its players is precisely the one Birch so vehemently rejects: Players who commit domestic assault will face consequences that are manageable in the grand scheme of things and don't serve as a real deterrent to such behavior.
And given the stubborn rigidity, the sheer myopia of Birch's comments in the face of such swift and nearly unanimous public backlash, the only message to the rest of us is equally clear -- not that the NFL doesn't care about its female fans, but that the NFL doesn't care about any of its fans. We're all slaves to The Shield, and the league knows that no matter how much outrage we might sling on Twitter, most of us will still suspend our indignation for a few hours every Sunday.
To contact the author on this story:
Kavitha A Davidson at kdavidson19@bloomberg.net
To contact the editor on this story:
Toby Harshaw at tharshaw@bloomberg.net
Before it's here, it's on the Bloomberg Terminal.
LEARN MORE