view
Housing Bubble May Pop Entire U.K. Economy
Tentative signs that the bubble in U.K. house prices may be running out of puff will complicate the Bank of England's efforts to nudge borrowing costs higher.
by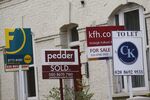 You may not want to bring this up at any London dinner parties, but there are tentative signs that the bubble in U.K. housing prices that's helped boost the economic recovery by underpinning consumer confidence may be running out of puff. Given the British obsession with home ownership, any evidence of real-estate deflation will complicate the Bank of England's efforts to nudge borrowing costs higher.
July marked the first month of no growth in London house prices since December 2012, according to figures last week from research company Hometrack Ltd. A different gauge showed the slowest pace of London gains in 15 months in June, according to the Royal Institution of Chartered Surveyors.
And today, Lloyds Banking Group's mortgage-lending unit reported that only five percent of people say the coming year is a good time to buy a home, a 29-point drop in just three months.

House prices have been on a tear in the past decade, as this chart shows: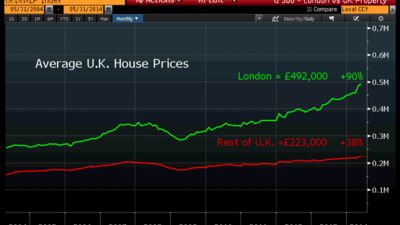 With earnings still in the dumps -- wages grew just 0.3 percent in May, while annual inflation was 1.5 percent -- houses are becoming less and less affordable, hence the U.K. central bank's imposition of new rules on mortgage lending in recent months. Some 71 percent of U.K. couples with at least one child own their own homes, rising to 80 percent for childless couples; U.S. home ownership is 65 percent, while in the euro region the rate is about 67 percent.
Prices in the futures market suggest investors are currently less concerned about the Bank of England's appetite for interest-rate increases than they were five weeks ago, when Mark Carney first raised the prospect of a shot across the bows of the monetary-policy landscape. Still, 13 out of 40 economists surveyed by Bloomberg News are anticipating higher rates by the end of the year. A slowdown in the housing market, though, might just be enough stay Carney's hand in 2014.
The mismatch between inflation and wage growth means workers are already feeling worse off. Any expectations for a drop in the value of the asset dearest to the hearts of most Britons would threaten to derail a recovery that's returned the economy to its pre-crisis state. Add the prospect of higher mortgage payments to the mix, and you have a clear and present danger to growth. Until earnings recover, the Bank of England should refrain from raising its policy rate from 0.5 percent.
To contact the author on this story:
Mark Gilbert at magilbert@bloomberg.net
To contact the editor on this story:
Toby Harshaw at tharshaw@bloomberg.net
Before it's here, it's on the Bloomberg Terminal.
LEARN MORE