Sunday Question for Liberals
What issues are deal breakers for you?
by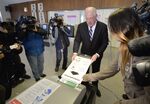 Once again, this is the same question that conservatives are getting. Thinking about nominations, what issue(s) are total deal breakers for you? In other words, if a candidate disagrees with you, there's no way you fill vote for him or her.