Why I'm Flying Malaysia Airlines
Air travel is safe. So is Malaysia Airlines.
by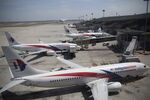 How grim can it get for Malaysia Airlines? Earlier this week the carrier announced that it's offering no-questions-asked refunds or postponements on all tickets valid for travel in 2014 -- including previously non-refundable tickets. It's a generous offer, and one that the airline no doubt expected many passengers to accept in the numb aftermath of its serial air disasters -- Flights MH370 and MH17. Indeed, of the 680 total air fatalities so far in 2014 -- another large crash and this will be the worst year for fatalities since 2005, according to Bloomberg News -- an astonishing 537 resulted from the ill-fated Malaysia Airlines flights. Who, at this point, wants to fly that airline?