Wal-Mart Throws a CEO to the Wolves
Wal-Mart's tough retail environment may defy conventional managerial magic.
by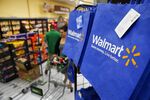 Wal-Mart Stores Inc. has appointed a new U.S. chief executive officer. It's an unusual time for a retailer to do a management shake-up, what with back-to-school right around the corner, and Christmas just a few doors further down. But Wal-Mart's same-store sales growth has been sluggish, and shareholders presumably wanted a change.
I've got a thriving sideline in dancing on the graves of big-box retailers. So this caught my eye. But I'm not quite ready to break out my black clogs yet.
Don't get me wrong: Wal-Mart faces a tough retail environment. Its demographic runs poor and strapped, so extended unemployment and a generally slack labor market haven't done it any favors. Early in the recession, it benefited from an influx of more affluent consumers, who saved money by taking their business to Wal-Mart. But affluent retail markets have rebounded. Meanwhile, Wal-Mart's core demographic is losing the emergency government benefits -- chiefly SNAP and extended unemployment -- that helped buoy Wal-Mart's sales over the last few years. And where Wal-Mart used to be the low-cost provider in basically every market it was in, it now faces stiff competition from dollar stores in many categories.
With all that happening, it would be surprising if Wal-Mart's margins weren't under pressure. And unless the incoming CEO has a way to boost low-wage incomes nationwide, or legislate dollar stores out of existence, it's hard to see what sort of magic he's going to work to restore them.
This is not what shareholders and analysts want to hear. And for board members, it's always better to throw someone to the wolves running behind the sled, than to wait to be eaten themselves.
This column does not necessarily reflect the opinion of Bloomberg View's editorial board or Bloomberg LP, its owners and investors.