Western Threats Mean Little to Putin
Russia appears to be threatened from all sides because of its behavior in the Ukraine conflict. The threats, however, are not real to President Vladimir Putin or to the rebels in eastern Ukraine.
by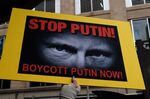 Russia has become deeply unpopular, even toxic. Europe and the U.S. are working non-stop on new economic sanctions, the world's biggest sovereign wealth fund is thinking of cutting its $8 billion Russia investment, and in Holland some people are calling for the deportation of Russian President Vladimir Putin's daughter.
The reason none of this has much effect on Putin, or on the cornered rebels in eastern Ukraine -- who shot down two Ukrainian fighter jets yesterday -- is that they live in separate worlds where such news stories have little real meaning. The Western world is, in effect, talking to itself.
WATCH: Leonid Bershidsky on Bloomberg TV, "Did Putin Kill Russia's Brand?"
Today's big news on sanctions is that an option paper distributed by the European Commission contained a proposal to ban Europeans from buying the stocks and long-term bonds of state-controlled Russian banks, which issued $10 billion of debt in EU financial markets last year. This would certainly hurt Russia's two biggest banks, Sberbank and VTB, since they are both state-controlled. They would, however, still be able to borrow in Asia and, until it followed suit, in the U.S. Besides, Sberbank now has almost $50 billion in cash, and its leadership in private deposits in Russia is unshakable.
Even if the ban is imposed, which is unlikely because the EU is so divided, nothing much will change for the state-owned Russian banks. The markets, wary of further sanctions, have not allowed them to borrow much, anyway. Last month, Sberbank postponed its first Eurobond issue since Putin made his Crimea play in March. VTB has just issued $387 million in Swiss franc-denominated Eurobonds, a tiny amount for a bank with $267 billion in assets. It prefers to borrow in rubles on the domestic market these days.
Both Sberbank and VTB stocks were down on the news and the Russian stock market in general has been bleeding lately -- but not enough to give Putin a scare, even if he should be a major investor himself. The RTS Index has lost 10 percent since July 9, when hopes for a ceasefire in Ukraine fed a minor rally, but it is now at the same level as at the end of February, before Putin caused a panic by asking the parliament for authorization to send troops to Ukraine.
Russia is missing the current uptick in the global capital markets as investors pour money into Indonesian stocks, Turkish and South African currencies. It may be enough to make Russian billionaires bite their nails, but hardly sufficient to get them to fund a coup d'etat. Not even the intention of Norway's $890 billion sovereign wealth fund to review its $8 billion investment in 65 Russian financial instruments, the biggest of which is a 4.6 percent stake in VTB, is a serious threat: The fund can't sell all its holdings at once and will protect its investment unless forced to act otherwise by some extra-severe sanctions, the likes of which are not even under discussion.
Perhaps the threat that his daughter Maria would be kicked out of the Netherlands could give Putin pause: He is famously paranoid about his daughters. Yet Pieter Broertjes, the mayor of Hiolversum, who made the suggestion in a radio interview, doesn't even know if Maria Putina really resides in his country (that's an unconfirmed story that circulated in the Dutch press last year), and he apologized on Twitter, anyway. Nobody is getting deported.
The damage to Russia's reputation as a partner to Western nations was ruined by the Crimea invasion, and it's an increasingly bad time to be Russian because a lot of people read the news. Putin and his crew have long since internalized these risks and convinced themselves that they are being persecuted unfairly because Russia's is the West's perennial enemy. Putin, whose popularity rating stands at 83 percent -- a level undreamed of in the Western world, even taking into account the shaky validity of Russian polls -- said at a recent session of his Security Council that his power could not be undermined from the outside. "Recipes that work in weak, failed countries torn by internal controversies and conflicts will not work here," he said. "Our people, the citizens of Russia, will not allow it or ever accept it."
The rebels in eastern Ukraine, for their part, care little about Russian state banks, Norway's oil fund or even Putin's daughter: The Ukrainian army is getting the better of them simply because there aren't enough of them and Russia is not sending in regular troops to aid them. Nobody is willing to negotiate on their terms, so all the fighters can do is maintain their increasingly desperate resistance.
At this point, only an international military intervention could stop the violence before the rebels are wiped out and a few remaining ragtag bands resort to terrorist attacks similar to those of defeated Chechen separatists at the turn of the century. Such an intervention is almost unimaginable, however: Even meaningful sanctions have remained out of reach for four months now. The conflict will have to run its course, and Russia will have to live with the reputational damage and the lessened investment potential that comes with it. Putin has already accepted that sacrifice and interpreted it his own way.
This column does not necessarily reflect the opinion of Bloomberg View's editorial board or Bloomberg LP, its owners and investors.