Trade of the Day: Flee French Taxes
The Trade of the Day is to flee France, which has squeezed more revenue out of its citizens and companies since 1999 than even Germany, Europe's biggest economy.
by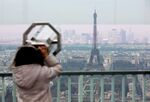 Wealthy residents are fleeing France after the government increased taxes by 70 billion euros ($94 billion) in the past three years and are heading to Portugal for sun, sea, sand and fiscal breaks, Bloomberg's Henrique Almeida reported today. Sothebys International Realty says French investors were the biggest foreign buyers of Portuguese villas in the first six months of the year.