Why Putin Isn't Afraid of Europe
Europe is much more tied to Russia economically than it was when President Vladimir Putin came to power.
by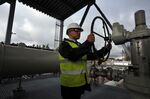 Why can't Europe's leaders bring themselves to impose tough sanctions on Russia in the wake of the Malaysia Airlines passenger jet disaster? One explanation is that economic ties to Russia, a major supplier of energy, trump the moral imperative to punish President Vladimir Putin for his support of separatists in Ukraine.
A look at trade data for selected European countries offers an indication of the incentives in play (see chart below). The Netherlands, which had 193 citizens aboard Flight MH17, is among the most connected: Russia accounted for about 6.4 percent of its imports in the 12 months through February 2014, according to data compiled by Bloomberg. Germany, the most politically powerful country in Europe, is roughly three times more tied to Russia than the U.S. or the U.K., which have been much more aggressive in pushing sanctions.

Europe's economic ties to Russia are much stronger than they were when Putin came to power. Back in February 1999, soon after he took over from former President Boris Yeltsin, Russia's share of German exports and imports was less than half what it is today (see chart below). Apparently, building new pipelines to Europe has served Russia's geopolitical interests well.

This column does not necessarily reflect the opinion of Bloomberg View's editorial board or Bloomberg LP, its owners and investors.