Trade of the Day: Buy Catastrophe
The Trade of the Day is to buy disasters; you'd have made more money investing in catastrophe bonds than hedge funds in the past decade.
by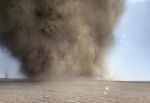 Natural disasters inflicted economic losses on the world of just $54 billion in the six months to June 30, according to insurance company Aon Plc's Global Catastrophe Recap report. That's about half the 10-year average of $106 billion in the period, Bloomberg's Carolyn Bandel reported today.