Questions for Obamacare Now
How will states and insurance companies respond if the Supreme Court rules against Obamacare in the subsidies case?
by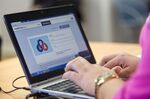 Yesterday, I outlined what we knew about Halbig v. Burwell, the case in which a federal appellate court ruled that subsidies for purchasing insurance under Obamacare can only be made available on marketplaces established by states. Now I propose to outline what we don't know: namely, what will happen after the case winds its way through the court system.