Microsoft's Nadella Communicates Badly. How Does He Execute?
Microsoft's Satya Nadella is not changing Steve Ballmer's strategy. He just has trouble explaining that.
by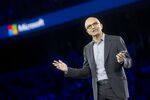 On an earnings call to discuss the results of the latest quarter, Microsoft Corp. Chief Executive Officer Satya Nadella gave his clearest explanation yet of what the corporation's new motto, "Productivity and Platforms," means. It took a while to get to that point.
Two weeks ago, Nadella wrote a more-than-3,000-word e-mail to employees about the new strategy. It was so larded with corporate-speak ("We will shift the meaning of productivity beyond solely producing something to include empowering people with new insights") that the company's priorities were hard to distinguish amid the logorrhea. In the corporate world, bad language often precedes bad news. After the long, rambling e-mail came a shorter, even more garbled one announcing the biggest layoff in the company's history: 18,000 jobs will be axed in the next six months.
Lee Hutchinson, writing for Ars Technica, described the layoff e-mail as "verbose obfuscation." It referred to "strategic alignment" and asserted that "our business processes and support models will be more lean and efficient with greater trust between teams." The e-mail seemed to equate more people with less trust. "Everyone can expect to be treated with the respect they deserve for their contributions to this company," Nadella promised, somewhat ominously.
This week's earnings call provided more clarity. Now I understand that Nadella is merely reiterating, badly, what Ballmer said clearly and concisely in his 2012 letter to shareholders outlining his "Devices and Services" strategy.
By "productivity," Nadella means leveraging the entire range of Microsoft's end-user software, from Office to Skype. The idea is to make these products available, through the cloud, to all platforms -- Windows, Android and iOS. It doesn't matter whether the software is for private or corporate use -- it should interact seamlessly. Microsoft will just target different offerings at corporations (the Enterprise Mobility Suite, for example) and private consumers (Office 365 Home and Personal).
Ballmer, too, talked about making sure people could easily move between their personal and corporate devices. Nothing has changed since he promised "new scenarios with life-changing improvements in how people learn, work, play and interact with one another."
By "platforms," Nadella means the technological foundation that allows the "productivity" applications to function. This includes Microsoft's server products, the cloud operating system and a final unification of Windows, which would allow the same applications to run on a phone, tablet or laptop. "The fact that even what is an app that runs with a mouse and keyboard on the desktop can be in the store and you can have the same app run in a touch-first or in a mobile-first way gives developers the entire volume of Windows, which is 300-plus million units as opposed to just our 4 percent share or mobile in the U.S.," Nadella explained.
In 2012, Ballmer wrote about "firmly establishing one platform, Windows, across the PC, tablet, phone, server and cloud to drive a thriving ecosystem of developers, unify the cross-device user experience, and increase agility when bringing new advancements to market."
The only element that Nadella has dropped from Ballmer's strategy -- which was communicated in less than 1,400 words -- is the focus on devices. That's understandable. Microsoft's share of the smartphone market is still too tiny to speak of, the latest iteration of the Xbox game console is losing the race to Sony's PlayStation, and the Surface Pro, a category-defying device that performs as a tablet or laptop, is just now getting off the ground. About 12,500 of the planned job cuts will hit the money-losing device unit that was, until recently, Nokia. "At times," Nadella said on the earnings call, "we will develop new categories like we did with Surface, and we will responsibly make the market for Windows Phone. However, we're not in the hardware for hardware's sake."
That's what Ballmer used to say, too. He stressed that the software giant would mostly leave the hardware business to partners, only making physical devices to open up new categories.
Microsoft's financial results and dividends are solid enough for investors to forgive its cryptic communication. Revenues are up 22 percent including Nokia and 10 percent excluding it, and the growth is highest in the right places, such as cloud services. Nadella would do well, however, to communicate better about the organizational changes he is making -- merging teams, flattening management structure, changing employee incentives. The new chief executive is not throwing Ballmer's strategic vision out the window. So he will be judged on his execution.
This column does not necessarily reflect the opinion of Bloomberg View's editorial board or Bloomberg LP, its owners and investors.