Guess Which Bank Wins First Prize for Bad Ideas
Accusations that Royal Bank of Scotland destroyed companies for profit merit further investigation by the U.K. government. 
by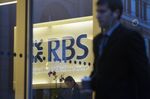 Royal Bank of Scotland, which trashed itself so badly during the financial crisis that the U.K. government had to take an 80 percent stake in the institution, has been less than honest with -- guess who? -- the U.K. government.