What to Do About the Jobs-Growth Conundrum
The jobs market, weak as it is, is actually doing better than the economy. What if the latter doesn't catch up?
by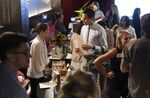 A strange thing is happening in the U.S. labor market: The unemployment rate has been falling much faster this year than it should given the slow underlying pace of economic growth. In fact, the fall in joblessness has exceeded that projected by policy makers and private-sector economists, the majority of whom had expected much faster economic growth. It's a conundrum that policy makers can't allow themselves to dismiss too easily or too quickly.