Russia's Iron Curtain Descends on U.S. Tech Firms
Russian lawmakers want to kick Western tech companies out of Russia. Those companies should reconsider what they were doing there in the first place.
by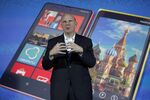 The Russian parliament is likely to limit purchases of Western computer hardware and software by public companies and government agencies -- a response to Western sanctions that would cost billions to the likes of Microsoft, Hewlett-Packard and IBM. Russia surely can do without the big brand products. The question is why so much Western technology was bought in the first place.