Royal Mail Delivers a Royal Mess
It's getting harder to shake the impression that Royal Mail is among the buggy-whip makers of these Internet times. 
by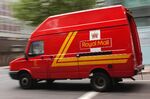 The opening sentence of Royal Mail Plc's first-quarter financial report earlier today made me wince:
In the first three months of our financial year we have delivered low single-digit revenue growth in line with our strategy.
Now, I don't know about you, but I'd quite like my pension contributions to be invested in companies that have a strategy to deliver high triple-digit revenue growth. Royal Mail's ambitions, though, are much more modest and, as Winston Churchill allegedly said of Clement Attlee, it has much to be modest about.
The company's red delivery vans that speed around London are sun-bleached and tatty, suggesting the fleet has been starved of capital expenditure in recent years; its shops and collection offices are plastered with those "abuse of our staff will not be tolerated" posters that tell you the customer-service experience is likely to raise your blood pressure a notch or three. Revenue grew by just 2 percent.
Royal Mail says its parcel-delivery business is suffering, in part because "changes to Amazon's minimum order level for free delivery and expansion of its own delivery network have reduced addressable market volumes." The combination of Amazon Locker collection centers and Amazon's delivery-by-drone ambitions, not to mention competition from other delivery services, may prove deadly to Royal Mail's package revenue. Keeping Royal Mail's sorting offices open on Sundays and introducing Sunday deliveries is an expensive response, especially when the company's work force is unionized and not exactly reticent about striking over pay and conditions.
In early trading today, the shares dipped to their lowest since the day after government sold the company's shares to the public in October: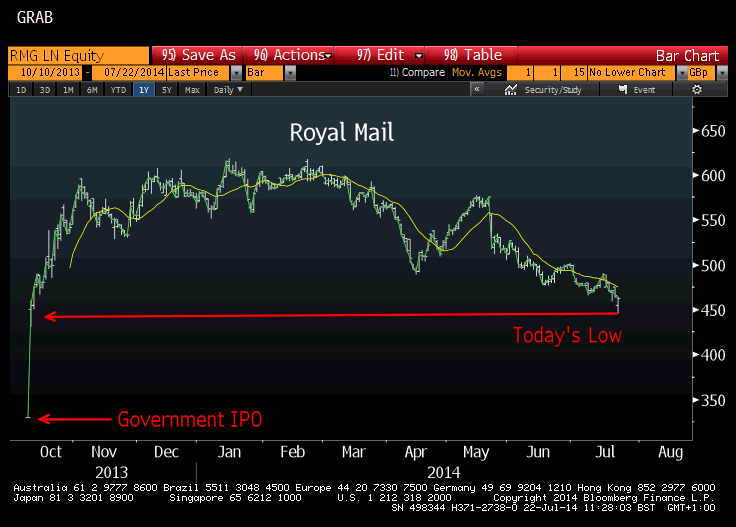 Analysts are divided on the company's prospects, with six rating the shares a sell, six calling them a hold, and six more advising investors to buy. In the past three months, though, two analysts have drifted out of the buy camp. It's getting harder to shake the impression that Royal Mail is among the buggy-whip makers of these Internet times.
This column does not necessarily reflect the opinion of Bloomberg View's editorial board or Bloomberg LP, its owners and investors.