Google Takes the Self-Driving Wheel From Nissan
by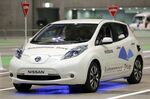 Nissan made waves last summer by becoming the first major automaker to commit to a time frame for the commercial rollout of self-driving cars, promising autonomous car technology in "multiple vehicles" by 2020. Just as with electric vehicles years earlier, Nissan was positioning itself as the industry's early adopter of the latest cutting-edge automotive technology.

A year later, things look very different. In a speech to the Foreign Correspondents' Club of Japan, Nissan chief executive officer Carlos Ghosn dialed back expectations: "Self-driving cars remain a long way from commercial reality." Nissan's love-hate relationship with transformational technology is perhaps understandable: It invested in unprecedented global production capacity for electric vehicles, only to see sales of its Nissan Leaf come in far below the number it can supply.
Nissan's about-face raises a bigger question: Can the traditional auto industry still be the master of its technological future? Just as Tesla has goaded the electric vehicle toward maturity, Google now stands ready to push automakers toward a driverless paradigm that threatens to set the industry on its ear. This threat became all the more credible last week: As Ghosn was backing away from autonomy last week, Googleadded Ford's revered former CEO Alan Mulally to its board of directors.
The auto industry, having enjoyed a century of maturity based on the supremacy of the internal combustion engine, has an ambivalent attitude toward the revolutionary technologies that have emerged in recent decades. The commercial success of Tesla's high-end strategy relative to the Leaf's "EV-for-the-masses" game plan shows that demand for high-tech automotive innovation may be deep and noisy, but it's not yet broad. And, in a counterproductive way, this has come as a comfort to a car industry that has long preferred to innovate with high-profit luxury models while keeping mass-market options familiar and reliable.
As with electric vehicles, autonomous technology presents fundamental challenges to traditional automotive norms. The concerns that kept most automakers from taking electrics seriously -- range and charging limitations relative to gasoline -- became self-fulfilling prophecies: the automakers chose not to undertake infrastructure solutions that might have helped electrics compete with gas-powered cars. Tesla's aggressive investment in infrastructure, and its charging-inclusive pricing models, showed a recognition that successful electric-vehicle firms must also be infrastructure firms.
Looking ahead, the electric revolution is nothing compared to the industry transformation that will be brought about by self-driving cars. Within the car industry, the possibility that anyone would try to sell a vehicle designed to never be directly controlled by a human being seems absurd. The driver has always been the customer, and the quality of human-machine interaction is a key product differentiator. For them, the ultimate nightmare is that self-driving technology will turn their former customers into little more than taxi riders.
This threat was abstract -- up until a few months ago, when Google CEO Sergey Brin introduced his firm's first prototype featuring no steering wheel and no pedals. With a deep-pocketed backer like Brin, who owes nothing to the automotive status quo and everything to keeping the public online, autonomous drive technology could reach its logical conclusion.
This horrifying vision, just as much as its struggles with the Leaf, may explain why Nissan pivoted away from declaring autonomy a "pillar of its future" -- and why one of Toyota's top scientists is publicly questioning the fuel-saving benefits of the technology. More fundamentally, it shows why conservative companies chose to steer clear of any talk of full autonomy in the first place, channeling public interest toward things like the new "driver assist features" such as GM's Supercruise, or vague futurism of the kind that surrounds Honda's Asimo robot. Safety-oriented auto brands such as Volvo have latched onto autonomous technology not as a way to replace human drivers, but as a way to bring accident rates among Volvo drivers to zero. Don't be surprised if automakers even start to echo the FBI's scaremongering about potential robot-car crime. The closer autonomous technology comes to viability, the more the established automakers will seek to keep a human behind the wheel.
The way past the industry's reflexive desire to mold new technology to the existing industry model is best demonstrated by Tesla, which has proven that commitment to technology is as important as the technology itself. By investing in its high-speed "Supercharging" infrastructure even as larger carmakers dragged their heels and squabbled over competing protocols, Tesla stole the march on competitors, who must now consider either cooperating with the upstart firm or duplicating its effort. The short-term barriers to autonomous vehicle adoption are different, and larger, than what faced electrics, but the long-term advantages of an early commitment to the technology will be similar.
With Nissan's retreat, it seems no major automaker is willing to become the "Tesla of autonomous cars." And with Mulally joining GM's former research and development boss, Larry Burns, in providing industry perspective to Google's self-driving car team, the search-engine giant has a real chance of picking up the slack. As with Tesla's electrics, the keys to success will be to noisily champion a vision of radical change, and to deliver a product that realizes that vision in the minds of consumers. Given how many Americans now see driving as a dangerous and tiresome bore, it seems that Brin's self-driving car will find fertile ground, even as the competition flees the scene.
This column does not necessarily reflect the opinion of Bloomberg View's editorial board or Bloomberg LP, its owners and investors.