The German Case for a Pay Raise
You don't often hear the Bundesbank call for higher prices. So news that the central bank sees scope for a non-threatening boost in salaries suggests something is stirring in policy land.
by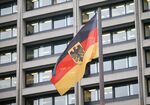 You don't often hear the Bundesbank, the most hawkish of anti-inflation hawks, calling for higher prices of anything. So the weekend news that the German central bank sees scope for a nonthreatening increase in salaries suggests something is stirring in policy land.
Jens Ulbrich, economic adviser at the German central bank, toldDer Spiegel magazine that wage increases in Germany remain moderate given the favorable outlook for growth and employment, and that higher wages might help achieve the European Central Bank's 2 percent inflation target.
German real wages grew in the first three months of this year for the first time since the last quarter of 2012, according to Bundesbank figures released last month. Workers enjoyed a 1.3 percent jump in pay for January to March compared with a year earlier, after declines of 0.1 percent and 0.3 percent in the previous two quarters as inflation outpaced salaries: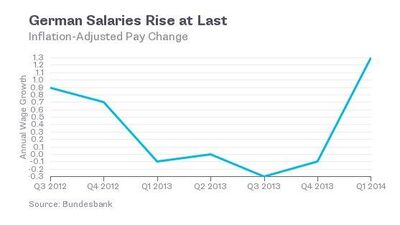 As my colleague Mark Whitehouse pointed outlast week, Federal Reserve Chair Janet Yellen has also signaled that she would like to see workers paid more, and that she isn't unduly bothered about any potential consequences for inflation.
Talk of a jobless economic recovery is giving way to the real and present danger of a wageless recovery; it's hard for consumers to be confident about the future when they feel less well-off as pay fails to keep up with increases in the cost of living. The growing chorus of calls from central bankers, albeit still quite faint, for employees to share more of the benefits of a rebound in growth is a welcome development. Maybe they've all been reading Thomas Piketty during their summer vacations.
This column does not necessarily reflect the opinion of Bloomberg View's editorial board or Bloomberg LP, its owners and investors.