Fired Tesco CEO Couldn't Create 'Amazon Lite'
Tesco needs to stop trying to kid itself that it can become Amazon.
by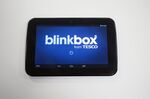 Picture a mom-and-pop convenience store, what we in Britain call a corner shop, where you go when you run out of milk, or you realize that the recipe calls for cashew nuts, or you have a sudden craving for a bar of chocolate. Now imagine that the shopkeepers also make and sell their own computer tablet, offer a television and movie streaming service, and sell digital books and music.
It could almost be Amazon-Lite. And it pretty much describes the recent history of Tesco Plc, Britain's biggest retailer, as Chief Executive Officer Philip Clarke attempted to emulate Jeff Bezos by creating a U.K. version of Amazon's"Everything Store."Tesco's acquisitions in recent years include Blinkbox for films, digital-book platform Mobcast, social media start-up BzzAgent and music platform WE7. I've barely heard of any of them, let alone bought anything from them.
Even after hearing Clarke describe his strategy in person earlier this year, I struggled to understand why anyone would feel the need to buy digital content from a grocer, no matter how loyal they are to its fruit and vegetables. Sure, all retailers need a vibrant online presence, and Clarke's boasts about hiring an army of research and development staff and programmers made sense as technology becomes ever-more important for all kinds of businesses. But inventing your own version of the iPad or the Kindle -- Tesco's is called the Hudl, since you asked -- smacks of hubris.
Clarke was ousted today, as Tesco's board decided a worsening profit outlook made it time for a new chief. It's a sad ending for Clarke, 54, who joined Tesco as a graduate trainee in 1981 and has been in the top job for a bit more than three years. With Tesco squeezed in food retailing between cut-price chains including Aldi and upmarket stores such as Waitrose, you can admire Clarke's efforts to differentiate it by building a one-stop online experience; yet investors, as this chart shows, have remained nonplussed: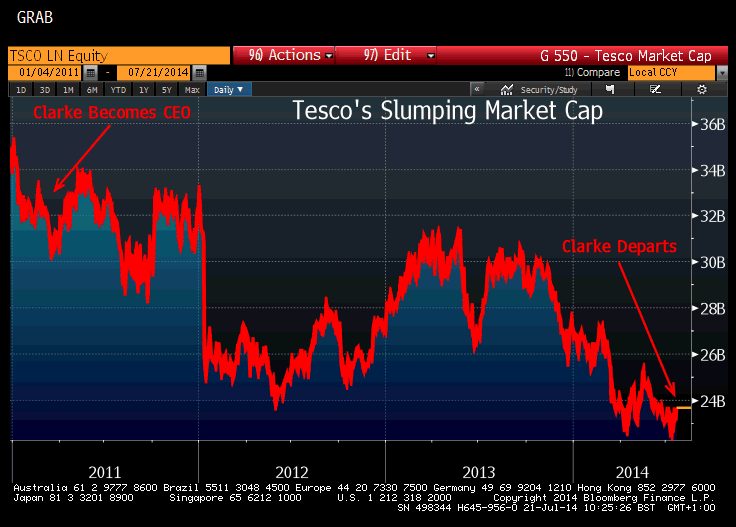 Tesco needs to get back to basics. The $850 million Clarke invested in his online adventures in 2013 was triple what he spent on cutting prices, as Tesco suffered its worse same-store sales slump in a decade. Today's figures show the company's domestic market share dropping to 28.9 percent from 30.2 percent
"I see competition emerging from non-traditional retailers, and I watch all of them," Clarke told Bloomberg reporter Gabi Thesing in April. "I've always been impressed with Amazon." Well, everyone is impressed by Amazon, and rightly so; that doesn't mean everyone can be Amazon.
This column does not necessarily reflect the opinion of Bloomberg View's editorial board or Bloomberg LP, its owners and investors.