Abe Needs to Lean Forward
Japanese Prime Minister Shinzo Abe has talked a lot about empowering women. But the strongest support he could give right now would be to appoint several top women to his reshuffled cabinet.
by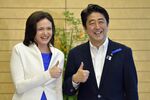 Those who think Japan is suddenly in the throes of a feminist revolution should take a look at a new survey on gender in the world's third-biggest economy.
In December 2012, Shinzo Abe returned to the prime minister's residence determined to end Japan's decades-long funk and raise living standards. Empowering women, a chronically underutilized resource, was a key pillar of so-called Abenomics. But 19 months on, the Meiji Yasuda Institute of Life and Wellness finds that 40 percent of men and women in their 20s, 30s and 40s still think a woman's place is in the home, while men should work full time. We're not talking about Japanese in their 70s, but a post-feminist demographic that includes Japanese millennials.
Clearly, ingrained gender perceptions die hard in deeply patriarchal societies. Japan is missing two vital elements needed to alter its gender dynamics: change agents and role models. In the weeks ahead, Abe has the power to address both as he reportedly plots a reshuffling of his cabinet by early September. If he really wants to breathe life into his pro-women agenda, the best thing he could do would be to appoint several new female ministers to key posts like finance, foreign affairs and chief cabinet secretary.
I've taken Abe's Liberal Democratic Party to task in the past for only naming women to, well, women's posts. Abe currently has two female cabinet members: Masako Mori as gender equality minister and Tomomi Inada as administrative reform minister. Neither job is what you'd call high profile or international, and neither comes with real power. These may be worthy appointments, but they are not groundbreaking.
According to Kyodo News, Abe plans to retain Finance Minister Taro Aso and Economy Minister Akira Amari in his new cabinet. Why? Because these guys have done a bang-up job restructuring things? Neither man has managed to implement even one of Abe's deregulatory steps and they're keeping their jobs? The only real headlines Aso has made have been for unseemly comments about Nazis or the elderly. You'd think by now Amari would see that the U.S.-led Trans-Pacific Partnership is stalled and that Japan should lower trade barriers on its own. Perhaps women in these jobs could do better. And why not replace Foreign Minister Fumio Kishida with a woman, too? It's not like Japan's diplomatic standing has improved appreciably since December 2012.
So far, Abe's "Womenomics" push has been all talk, no action. And even the optics haven't always fit with the program. Last month, when Tokyo assemblywoman Ayaka Shiomura faced sexist taunts from male colleagues while giving a speech, Abe barely came to her defense. His reticence undermined his feminist credentials in nation where the percentage of women in parliament trails even Saudi Arabia.
To alter prevailing gender views and enliven economic growth, Abe is prodding Japan's private sector to allow more women into the board room. Sounds great Mr. Prime Minister, but you first.
This column does not necessarily reflect the opinion of Bloomberg View's editorial board or Bloomberg LP, its owners and investors.