view
What Mattered This Week?
What's happening in Gaza matters. Joe Biden's latest gaffe, on the other hand, probably doesn't.
by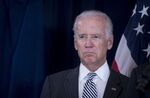 I think the right question about the events in Gaza this week is how they matter; not whether they matter. I don't have the answer to that one.
There was a gaffe by Vice President Joe Biden this week. You already know what I think -- but it did spark a good Dave Weigel post, so that's something.
That's what I noticed. What else happened? What do you think mattered this week?
To contact the author on this story:
Jonathan Bernstein at jbernstein62@bloomberg.net
Before it's here, it's on the Bloomberg Terminal.
LEARN MORE