Why Would  Anyone Buy Credit Default Swaps on China?
Or Kazakhstan? Which has no external government debt, but half a billion dollars of net notional CDS outstanding.
by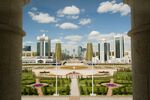 Here is an International Financing Review article about credit default swaps on China. There are a lot of those swaps, is the main point, and they have a pleasing, or irritating, lack of sense:
The net notional outstanding in China CDS now stands at US$14.1bn according to the DTCC - a leap of 109% compared to a year ago. The country is now the third largest single-name CDS contract in the world by net notional, despite having only a handful of small outstanding bond issues.

In fact, there's only a little over $2 billion worth of debt that could be delivered into CDS. 1 Pimco, the major seller of China CDS, has written around $3 billion notional of protection, meaning that Pimco is long more Chinese government debt on swap than there is Chinese government debt in the world. 2
This is weird, but I guess it is not the weirdest thing. Kazakhstan, for instance, has no external government debt, 3 but it has half a billion dollars of net notional ($7.6 billion gross) of CDS outstanding. You can buy credit default swaps on Kazakh debt that does not exist and so cannot default, or be delivered into a CDS contract if it did somehow default. As one guy says about China:
"The default protection angle has always been very weak in my opinion. There's just about nothing to deliver and nothing that would trigger it, so it's unlikely to help you at all," said the hedge fund manager.

So why do it? Well here is the classic answer:
"People are not realistically betting on China defaulting. It's more of a mark to market hedge - that's why it trades at around 70bp outright," said [Citi trader Salih] Unsal. "If there really was a China default, people would have bigger worries than a lack of CDS deliverable obligations."

You hear this a lot -- about U.S. government CDS too -- and, while it is correct in its way, it is also deeply unsatisfying. 4 Imagine if I wrote you a contract with the following features:
You give me money up front.
I never give you money back.
But, like, it's a mark to market hedge?
That would clearly be nuts. The argument that CDS that can never pay off is somehow "more of a mark to market hedge" is almost equally silly. If there's some structural feature that makes it impossible for CDS to pay off, then it can never be a mark to market hedge. CDS is only a mark to market hedge because its price movements reflect some perceived probability that it will pay off. You can make money trading CDS if that perceived probability goes from 1 percent when you buy to 2 percent when you sell -- it doesn't need to actually pay off -- but if the probability starts at zero and remains at zero then the whole thing is nonsense and you can't address the nonsense by mumbling about mark to market.
Here I am talking like a derivatives purist, not like a trader. Obviously, if you are a trader and you buy a thing and its price goes up and you sell it, you have made money, and if it was nonsense at all relevant times, that is not your concern. The money is not nonsense. But as a purist, I want a derivative's value to have some meaningful relationship with its contractual cash flows in possible future states of the world. If those cash flows are always zero then, I mean, there might be money, but there is no meaning.
Also, financial markets have some glancing acquaintance with efficiency, 5 so it's worth looking for something other than the mass-delusion explanation for China (or Kazakhstan) CDS trading. The most reasonable explanation that I've heard is: Well, look, there's no deliverable debt now. But there are various tail-risk-y things that could happen in these markets; various borrowers in those countries -- particularly the banking system, or maybe the local governments -- could run into trouble that they can't get out of. And then maybe the national government would step in to rescue them. And maybe it would borrow money in international markets to fund that rescue. If it did that, then there would be debt for the CDS to reference. And once there's debt for the CDS to reference, then that debt could default, and be delivered into the CDS. The CDS might be getting ahead of the underlying debt, but maybe the debt will catch up eventually.
And in fact, Chinese, and Kazakh, CDS trades wider when those countries' banking systems run into trouble. 6
In other words, a five-year China credit default swap isn't so much a bet that China will default on its debt in the next five years, as it is a bet that China will issue some debt, and then default on it, all in the next five years. 7 It's a pretty unlikely outcome -- that's why the CDS spreads are so low -- and a doubly contingent one. But double contingency is okay; derivatives can handle lots of contingencies all in one place. Contingency is what derivatives are all about. Not, you would hope, irrationality.
To contact the author on this story:
Matthew S Levine at mlevine51@bloomberg.net
To contact the editor on this story:
Toby Harshaw at tharshaw@bloomberg.net
Before it's here, it's on the Bloomberg Terminal.
LEARN MORE