VW Is Hungry. Fiat-Chrysler Is Easy Prey.
What appears to be just another twist in the ego-driven soap opera between VW's Ferdinand Piech and Fiat's Sergio Marchionne may actually presage the next round of auto industry consolidation.
by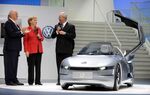 Anyone who follows the auto industry might find it easy to dismiss this week's news that Volkswagen is in talks to take over the recently consolidated Fiat Chrysler Automobiles. After all, VW has been aggressively eyeing Fiat's best assets ever since the European downturn began, and FCA's top shareholder insists that the latest rumors have no more validity than any of the others over the last five years. But what appears on the surface to be just another twist in the ego-driven soap opera between VW's visionary leader Ferdinand Piech and FCA's scrappy boss Sergio Marchionne may actually presage the next round of auto industry consolidation. Piëch's plan to roll FCA into his VW juggernaut faces obstacles, but all the momentum is on his side.
Since 1908, when 253 auto manufacturers operated in the U.S. alone, the auto industry has been caught in a relentless cycle of consolidation. Driven by the capital-intensive, low-margin nature of the business, vast scale has become the key competitive advantage in the car business. Though the auto industry is showing signs of emerging from its century of maturation and consolidation, with startups such as Tesla trying to break into an industry that has chewed up every new upstart since the Chrysler Corporation, it remains ruled by the absolute law of scale. For all the recent improvements in auto performance, safety, reliability and efficiency, the real competition in the industry involves spreading fixed costs across as many models as possible.
Nowhere is this industry reality more thoroughly and strategically embraced than at Volkswagen, which has become the clear leader in the art of building a broad range of brands and vehicles on a limited set of common components. While its major competitors scramble to improve "model to platform/architecture ratios," VW is well on the way to basing all of its vehicles on five modular "kits," with the majority of its sales volume based on just two of them -- one for smaller vehicles such as the Golf and the other for larger vehicles including Passat. This advantage, along with its strong luxury brand portfolio and leading position in the Chinese market, is what makes Volkswagen one of the best positioned automakers in the world. Only in the U.S., where the brand's long-term struggles have recently been made up for by Audi's highly profitable growth, does Volkswagen not appear as an all-conquering leviathan.
In Europe, however, Volkswagen has been using its position of strength to squeeze out weaker competitors, primarily through with heavy discounting. In 2012, Fiat's Marchionne accused the German juggernaut of causing "a bloodbath of pricing," precipitating a confrontation that led Volkswagen to call for his resignation as president of the European auto trade group ACEA. That beef was squashed by the end of that year, as it became clear that Fiat's precarious position would be shored up through a successful merger with Chrysler, but it further demonstrated that the biggest fish in the European pond was looking hungrily at the Italian firm.
Even before that dust-up, relations between the two companies had been frayed by Piech's repeated public offers to acquire FCA's troubled Alfa Romeo division, and Marchionne's snarky rebuffs of same. Though Marchionne has long bemoaned Alfa's underperformance, he has remained adamant that "as long as I am CEO of Chrysler and Fiat, Mr. Piech will never have Alfa Romeo." The sight of two oversized egos battling for a storied performance brand has captivated the auto press, heaping fuel on the now-resurgent takeover rumors, but it was largely a sideshow. The latest FCA five-year plan calls for a $5 billion investment in Alfa, making it Fiat's main offensive into volume car sales and a crucial bridge between its Ferrari-Maserati luxury group and its struggling volume car business. Rather than buy Alfa or any other single part of FCA from an antagonistic Marchionne, expect Volkswagen's cagey leadership to continue to bird-dog their shaky competitor in hopes of spooking it into an unforced error. As Piech put it back in 2011, "Volkswagen has time." And now it has $24 billion cash on hand, too, according to news reports, or almost $35 billion in cash and equivalents, according to its first-quarter balance sheet.
For Marchionne and Fiat, time and money are less reliable allies. Because Chrysler had less than $15 billion in liquidity at the end of its 2013 fiscal year, access to its cash is limited at the still-consolidating firm, meaning FCA's investments in Alfa Romeo and other growth projects must be funded by operations. This will require a 59 percent increase in global sales, a 39 percent jump in U.S. market share (from 11 percent to nearly 16 percent), and a 71 percent increase in profit margins over the course of five years, according to company estimates. With almost no financial safety net and no assets that Marchionne seems willing to sell, FCA's high-growth projections are literally do-or-die.
If any hiccup strikes Ram truck or Jeep SUV sales, or if FCA's strategy to bring Maserati to the masses by sharing parts with Chrysler and Jeep doesn't deliver, the music will stop. When it does, FCA's fabulous stable of legendary Italian brands, top-rated plants in Poland and Brazil, and profitable U.S. truck and SUV business will be ripe for the picking. With a choice of these prizes, Volkswagen would likely bolster its lackluster U.S. presence with the Jeep and Ram franchises than add a weak near-luxury European brand and Italian production capacity to its portfolio.
But the fact that FCA's Italian manufacturing base is coveted by precisely nobody introduces the wild card in this automotive drama: the Italian government. Fiat may owe its survival to its shotgun marriage to Chrysler -- and therefore to U.S. taxpayers -- but the company has shifted its strategy toward exports of high-margin, Italian-made Maseratis, Alfa Romeos and even Jeeps. Having preserved manufacturing jobs that the Italian economy probably couldn't afford to lose, FCA might now be considered too big to fail in Rome. If broader economic tensions between Southern Europe and Germany factor into the political equation, it may become even trickier for Italy's government to watch from the sidelines as Volkswagen nudges FCA toward oblivion. Running low on options, Marchionne may seek refuge as national champion of the Italian state, and thereby push Europe's car drama to an epic scale.


This column does not necessarily reflect the opinion of Bloomberg View's editorial board or Bloomberg LP, its owners and investors.