view
Trade of the Day: Pray for Rain
The Trade of the Day is to pray for rain in California;, where thirsty almond trees deserve a break. 
by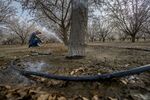 Back in May, the U.S. government predicted a 2.5 percent drop in almond production as drought gripped California, which grows 80 percent of the world's supply.
Farmers, though, are a resourceful bunch; after diverting water from less-valuable vegetable crops and drilling more wells, the forecast now is for a 4.5 percent rise in this year's crop, which will start being harvested at the end of this month.
With almonds fetching more than $3 a pound, the nuts are poised to beat 2006's record average annual value of $2.81, Bloomberg's Megan Durisin reports. So the Trade of the Day is to pray for rain in California; those thirsty almond trees are doing OK now, but they will do better when the drought breaks and so will the vegetables.

To contact the author on this story:
Mark Gilbert at magilbert@bloomberg.net
To contact the editor on this story:
James Greiff at jgreiff@bloomberg.net
Before it's here, it's on the Bloomberg Terminal.
LEARN MORE