view
Russell Westbrook Wants You to Look Fabulous
Russell Westbrook just debuted his new clothing label, but why did he choose as a partner Barneys, which has a dubious history of racial profiling?
by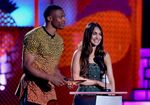 NBA superstar Russell Westbrook just debuted his new clothing label and, well, just look for yourself.
The line, which looks like something Dock Ellis might have designed on the way to his no-hitter party, is sold at Barneys New York and features hideously colorful basketball shorts, jerseys and baseball caps that don't belong anywhere near a court.
If the line's biggest crime is its inexorable tackiness, a close second is just how much Barneys is charging to look like an extra from "Fraggle Rock." The cheapest item is the $65 cap, which comes in either plain black or Westbrook's signature elephant print, then ranges from a $165 pair of "sport tights" -- because multicolored spandex doesn't need to be further feminized by calling them "meggings" -- all the way up to $2,995 for a crocodile-print suitcase.
"I just feel like I have my own style," Westbrook said, and that's just great. I would never want to stifle the sartorial creativity of one of the NBA's finest talents. But I can't figure out who Westbrook -- or Barneys, for that matter -- thinks he's targeting with this line. According to Nielsen, NBA fans are among the poorest of the four major sports. Only 18 percent make more than $100,000 a year, while 66 percent make $75,000 or less. About 20 percent make $20,000 to $40,000, and 13 percent make less than $20,000. Meanwhile, non-basketball fans aren't likely to buy expensive clothing by an unknown designer from Oklahoma who happens to be an athlete.
Furthermore, recent controversies involving the luxury department store should give additional pause. The NBA is widely known for having the most diverse audience in sports, with a fanbase that's 45 percent black. Last October, Trayon Christian, an African-American teenager, was arrested when he tried to purchase a Ferragamo belt at Barneys. Store clerks accused him of presenting a fake debit card, and undercover cops detained him while questioning how he could afford such an expensive belt.
Turns out, it wasn't the first time: A 21-year-old nursing student later came forward that she had been similarly surrounded by cops after she used her tax refund to purchase a $2,500 Celine bag from Barneys. The incidents renewed discussion of luxury stores and customers whose only crime is "shopping while black."
The Huffington Post detailed the store's "deeply ingrained" culture of discrimination, including former employees' first-hand accounts of racial profiling of customers by salespeople and security guards. "If a black person comes in with a sweatshirt or sneakers, some of the white sales associates would be on the floor saying: 'Why are they even here? They're probably going to scam,' " a former sales associate told HuffPost.
Barneys is facing several discrimination lawsuits as a result, and would be best served by reviewing how it treats customers. Christian later explained that he had saved up paychecks from his part-time college job to buy a belt he had seen worn by many of his favorite celebrities. Sounds like he's just the sort of customer Barneys is trying to attract with its Westbrook line, whether or not he looks to them like he can afford it.
To contact the author on this story:
Kavitha A Davidson at kdavidson19@bloomberg.net
To contact the editor on this story:
Toby Harshaw at tharshaw@bloomberg.net
Before it's here, it's on the Bloomberg Terminal.
LEARN MORE