Merkel Shows Men How It's Done
Angela Merkel's leadership style has proved more effective than her male opponents could ever expect. It has changed Germany for the better.
by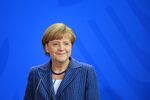 Would women be better than men at running the world? There's a case to be made on the example of Angela Merkel, currently the longest-serving -- and most popular -- leader of a Group of Seven country.
Ten years ago, the former physical chemist celebrated her 50th birthday by listening to a long lecture titled "The Brain: Complex System Without Conductor; Consequences for Our Self-Image." A 2005 New Yorker profile of the emerging political star reported that when a rival for the leadership in Germany's Christian Democratic Party called at the last minute to accept Merkel's invitation to the event, she told him the invitation was meant as an "intelligence quiz."
For her 60th birthday yesterday, Merkel also treated herself to a lecture -- one on globalization, by Juergen Osterhammel, a University of Koblenz historian who traced the roots of a borderless world to the middle ages. This time, only an illness or some kind of disaster could keep the more than 1,000 invitees away, and the lecture's subject showed that Merkel had finally made the transition from a reticent, provincial academic to a political strategist. It was no longer an intelligence test but a subtle nod toward Merkel's contribution to German history. It is during her rule that it became the world's most connected nation by flows of goods, money, information and people.
With an approval rating of 71 percent, far beyond what the leaders of other big industrialized nations could hope for, Merkel shouldn't need any further justification to stay in power. She has, however, an unexpected one: "I have, at least so far, incredible curiosity." It's not just about highbrow lectures. Merkel is the rare politician who listens rather than talks, which is one reason her public pronouncements are famously bland and repetitive. One sometimes gets the impression that Russian President Vladimir Putin calls her so often (he did it yesterday, too) because he finds the sessions therapeutic.
When she started out as chancellor -- in a predominantly male, forceful and boastful political culture -- her attentiveness sometimes confused people. Her assiduous note-taking in a 2006 meeting troubled Hartmut Mehdorn, then the head of Deutsche Bahn, the powerful German railroad operator: "So much passivity makes you wonder whether she will be able to make decisions quickly when the going gets tough," he said. Accusations of passivity and "lack of leadership" dogged her during the recent European debt crisis as well -- even though it was Germany that, under her quiet leadership, emerged as the clear leader of the European Union, able not just to bankroll faltering nations but also to steer the bloc toward more prudent policies.
"Sooner or later, foreign observers and Germans alike will become more accustomed to German 'low-impact leadership,' wrote John Kornblum, a former U.S. ambassador to Germany. "But until then, Berlin watchers will continue to puzzle over whether Germany is actually leading or not. My guess is that this is exactly as Merkel would have it."
Perhaps Merkel's approach is what people have in mind when they say women are better than men in positions of power. In her 2011 memoir, Condoleezza Rice -- another woman in a "male" line of work -- did not describe her as passive, but rather as patient and consensus-seeking, the tireless, ultraconstructive negotiator. Rice wrote wistfully that it would have been nice to deal with Merkel instead of Gerhard Schroeder when the U.S. planned the Iraq invasion, but it's clear that Merkel, despite the ingrained right-wing conservatism of someone who grew up under communism, is not willing to follow the U.S. blindly. She doesn't get angry when she pushes back, but she is steady and blunt.
Under Merkel, Germany has changed subtly, turning from a still-torn nation with grand visions and looming inferiority complexes into a more inclusive, tolerant, rational society capable of leading by example. Those 10 years between the lectures on neuroscience and globalization have been well spent. She will be a tough act to follow, especially for a male politician. Hopefully her curiosity will last.
This column does not necessarily reflect the opinion of Bloomberg View's editorial board or Bloomberg LP, its owners and investors.