view
Levine on Wall Street: Inversions and Investigations
Tax-inversion mergers, congressional insider trading, pump and dumps, computer hacking, and just straight stealing from clients: It's the whole rainbow today.
by
Happy Merger Friday.
AbbVie has agreed to buy Shire Plc for $54.8 billion in an inversion, moving its tax residence to the U.K. and "dropping the company's tax rate to 13 percent from 22 percent." And:
"It's very, very sweet for Shire," said Guillaume van Renterghem, an analyst at UBS AG in London. "The beauty of this AbbVie-Shire deal is that everybody gets out of this deal in even better shape than they entered it."

Well not everybody. A lot of financial transactions are essentially antagonistic, if not zero-sum: Every extra dollar in premium that Shire shareholders get is a dollar that comes out of AbbVie shareholders' pockets, and traditionally the short-term reaction to merger news tends to be positive for target stocks (yay premium!) and negative for acquirer stocks (boo overpaying!). But sometimes you can make both sides happy by just taking money from a third party, with tax authorities being a particularly popular and generous source of funds. AbbVie's income tax expense was $1.2 billion last year, so that lower rate should add $500 million a year to after-tax earnings; at its 17ish forward P/E that's worth around $8.5 billion, enough to make both sets of shareholders happy -- though AbbVie's shareholders will owe taxes on the deal.
That congressional insider trading probe involves 44 hedge funds.

People got pretty excited about this news but I'm not quite sure why? Like, this is the way investigations work. Some good news for health insurers was announced. Those 44 funds had traded in advance of the news. The Securities and Exchange Commission was all, "why did you trade?" Those funds were all, "we got information from Height Securities, a research firm whose product we subscribe to." The SEC traces the information back from Height, to a lobbyist at Greenberg Traurig, to a congressional staffer. It seems unlikely (to me) that those 44 hedge funds did anything wrong: They were too far removed from any evidence that the information was being obtained illegally, even if it was. Like, the SEC still can't tell if that staffer's tip was illegal (in breach of a duty, for personal benefit, etc.) or legal (as part of his legislative duties 1 ); how could the hedge funds (who didn't even know about the staffer) be expected to know?
Good week for pump and dumps.
Here's how "medical education company CodeSmart" has traded over its public existence: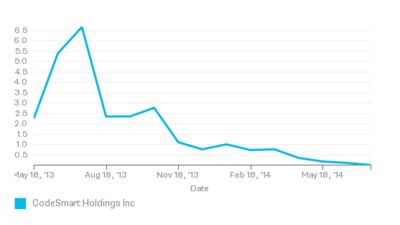 Can you see the pump? Can you see the dump? The SEC and prosecutors could, and brought civil and criminal fraud cases against various people associated with CodeSmart accusing them of the usual stuff: fake wash trading, false press releases touting the stock, flooding the market with restricted shares, etc. It's all pretty standard, though it allegedly "cost innocent investors at least $50m," and the purported mastermind is AJ Discala, who "was once married to Jamie Lynn Sigler, who played Meadow on the HBO series The Sopranos" and who told one of his buddies "I'm teaching you . . . I'm Yoda, you're Obi-Wan." He did not have Yoda's ear for a well turned phrase though:
"I structured it perfectly," he said to the investor, Victor Azrak, in a message in June after CodeSmart was trading for pennies, according to court documents.

"I know, that's beautiful. By the way, that's, that stock is in the hall of fame, you know that?" Mr. Azrak said.

"It should be in the hall of shame," Mr. Discala responded.
And still elsewhere in SEC actions.
There are a lot. Here's one charging "the owner of a Seattle-based investment advisory firm with fraudulently misusing client assets to make loans to himself to buy a luxury vacation home and refinance a rare vintage automobile." The car is a 1955 Mercedes Gullwing, and he used $950,000 in client assets to refinance it, so, nice car. A possibly useful heuristic is, if your financial adviser's car doors don't open like regular car doors, maybe he shouldn't be your financial adviser. And here is a report that the SEC "has been seeking information on 10 registered broker dealers as part of an ongoing investigation into high-frequency trading strategies." The targets include Allston Trading, Hudson River Trading, Jump Trading, Tradebot, Two Sigma (twice), Virtu, Merrill Lynch, and units of Tower Trading and of KCG Holdings. It's unclear how serious this is: "The regulator told its staff in late March that it was interested in seeing any tips, complaints, or referrals that they receive concerning the brokers and high frequency trading," but that doesn't mean it's actually gotten any tips yet.
How about that Nasdaq hack?

Here is the story of how the NSA and FBI and so forth found that foreign hackers had gotten into the Nasdaq's systems and ... done something. No one quite knows what, though the leading theory is now that they stole design information to build a world-class stock exchange in Moscow. Other possibilities include someone trying to break Nasdaq for purely destructive purposes. Or there's this:
If the hackers' motive was profit, Nasdaq's Director's Desk, the Web-based communication system where they first entered the network, offered amazing possibilities. It's used by thousands of corporate board directors to exchange confidential financial information about their companies. Analyst reports are passed to the board of a company using the system a day before they're made public; whoever got their hands on those could accumulate an instant fortune.

There's no evidence that anyone actually traded on that information, but really, is it that great an idea to exchange all your confidential financial information on a third-party platform? I mean other than Gmail obviously.
Alibaba's IPO will be delayed.
It's been a long time since I was a capital markets banker but still this makes me vicariously happy:
Alibaba, the Chinese Internet giant, has decided that it is not worth sprinting toward its long-awaited initial public offering ahead of the unofficial late-summer market slowdown.

The company will instead price its offering sometime after Labor Day, people with knowledge of the matter said on Thursday.
No real reason (apparently): It's just a lot of work, and no one's really around in August, so let's just wait until September. I'm sure the senior people involved are a bit disgruntled -- waiting always increases risk, and delays fees -- but obviously the "sprinting" would be less pleasant for those lower down the working-group list. Investment banking -- particularly capital markets banking -- is such a coordination game that you can actually have the occasional peaceful vacation: "It's not that I'm lazy," you tell the client from the beach, "but there are just no buyers around in August, so I'll see you in the fall?"
Things happen.

How bad were Citi's mortgages really? Time Warner's takeover defenses are weak. Jamie Dimon can keep his options. If voters like private equity executives, they'll love hydraulic-fracturing private equity executives. Whitebox on arbitrage opportunities created by ratings agencies. Junk bond investors adorably think they can demand tougher covenants and longer non-call protection. Soon your mapping app will be able to tell you a nice way to walk. "Is Your Team Yelling Enough?," asks a former banker.
To contact the author on this story:
Matthew S Levine at mlevine51@bloomberg.net
To contact the editor on this story:
Toby Harshaw at tharshaw@bloomberg.net
Before it's here, it's on the Bloomberg Terminal.
LEARN MORE