Germany Poised to Join 1% Club
The willingness of investors to lend 10-year money to Germany at an interest rate fast approaching 1 percent suggests trouble ahead for Europe and German pensions. 
by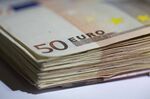 Germany looks set to join Switzerland and Japan in the club of countries able to borrow for a decade at yields of 1 percent or less. Switzerland, though, has almost no debt, while Japan has had almost no economy in recent years, so what gives?
Here's a chart of the yields of selected countries, showing Germany's 10-year borrowing cost has dropped to 1.15 percent from almost 2 percent at the beginning of the year: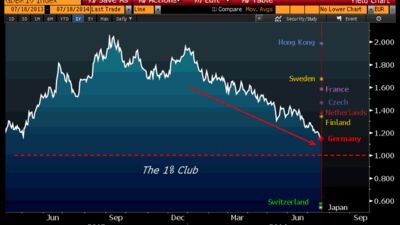 Germany, though, has total debts of about $1.5 trillion, according to Bloomberg data. Switzerland owes just $107 billion.
The willingness of investors to lend 10-year money to Germany for such a negligible return is worrisome. It suggests that the German bund market still has haven status, which in turn may reflect investor concern that the euro area debt crisis has paused rather than ended.
Greece, for example, will need a third bailout in addition to the 240 billion euros ($323 billion) of rescue money it's had from its European partners and the International Monetary Fund in the past four years, according to six out of 10 economists in a Bloomberg News survey. Recent events in Portugal, meantime, suggest the euro zone's banks may still not be as healthy as they should be.
And although lower borrowing costs would seem to be great news for German taxpayers, they come with a heavy cost to German savers and their pension prospects -- storing up trouble for the future that will resist an easy remedy in this era of financial repression.
This column does not necessarily reflect the opinion of Bloomberg View's editorial board or Bloomberg LP, its owners and investors.