Editorial Board
Europe Can Hammer Putin Over MH17
The downing of Flight MH17 is as much a European tragedy as a Malaysian one, and it demands a more forceful and united response to the Ukraine crisis than Europe has taken so far.
by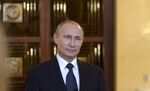 The downing of Flight MH17 over eastern Ukraine is at least as much a European tragedy as a Malaysian one, and it demands a far more forceful and united response to the conflict in Ukraine than Europe's leaders have so far been willing to take.
Two-thirds of the 298 innocent men, women and children killed on the Boeing 777 were from Europe, mostly the Netherlands. And while it remains uncertain who fired the missile that downed the airliner, the circumstantial evidence that it might have been Russia-backed insurgents is piling up. That should be sufficient to impress those European Union leaders who until now have considered the Ukraine crisis insufficiently important to take any action that would risk their countries' lucrative Russian contracts.
Predictably, Russian President Vladimir Putin is blaming Ukraine for the deaths, arguing that if it hadn't been fighting the rebels, the Malaysia Airlines plane would have reached Kuala Lumpur safely. This is hypocrisy of the highest order: Russia manufactured the conflict in eastern Ukraine. It is largely led by a former (perhaps current) Russian intelligence officer and supplied with Russian weaponry and fighters -- supported, recent evidence suggests, by rocket batteries from across the border. Putin's failure to respond to the tragedy by moving quickly to bring the war to a close is only more evidence, if any were needed, that Europe must act more boldly.
Just a day before the attack, Europe's leaders declined again to impose stinging economic sanctions on Russia for fomenting the Ukrainian conflict. They chose not to match U.S. measures squeezing the access of some of Russia's biggest state companies and banks to credit markets. Instead, they ordered a halt to investment in Russia by the European Investment Bank and the European Bank for Reconstruction and Development -- marginal moves that impose no costs on European companies.
The EU leaders can still get their priorities in order by making sure their upcoming sanctions against individuals and companies that support the Russian rebels in Ukraine are significant. The list of those to be sanctioned is to come out at the end of this month.
The EU also needs to act -- as it should have in March, when Putin annexed Crimea -- to cancel the sale of French Mistral helicopter carriers to Russia's military, as well as halt participation in the Russia-backed South Stream gas pipeline, the sole purpose of which is to circumvent Ukraine's transit network.
There is no guarantee that sanctions of any kind will get Putin to back down over Ukraine. But the EU needs to demonstrate that it cares enough and is united enough to stop him -- even at some cost to their own interests -- if he is to be deterred from further adventures in Ukraine or beyond.
--Editors: Marc Champion, Mary Duenwald.
To contact the author on this story:
The Editors
To contact the editor on this story:
David Shipley at davidshipley@bloomberg.net
Before it's here, it's on the Bloomberg Terminal.
LEARN MORE