China Won't Give Up on Show Trials
The latest set of judicial reforms are a step in the right direction but China's Communist Party needs to leave the judicial system alone for real change to occur.
by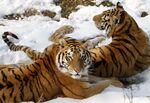 As China's Communist Party purges corrupt officials, it is also working to build the legitimacy of the judiciary that will put them on trial. Last week, the Supreme People's Court announced ambitious guidelines for a pilot program of judicial reforms in six key regions, including Shanghai and Guangdong.
The reforms aim to reduce rampant party interference and the lack of professionalism that have long plagued China's legal system. In particular, Beijing aims to curb local manipulation of courts to cover up official wrongdoing. Now, the local judiciary will be independently managed. Provincial-level boards, made up of legal professionals, will appoint and promote judges and prosecutors, who will preside over cases without the additional presence of judicial committees, which are controlled by the party.
Alas, even if these reforms are implemented, they will be rendered moot by the party's fundamental intolerance for the rule of law and judicial independence.
As these programs are being introduced, the extra-judicial bent of the Communist Party is on full display with each new corruption investigation. For starters, party officials suspected of abuses are brought to book not by the country's main criminal justice system, but by the Central Commission for Discipline Inspection, or CCDI, which subjects them to a special interrogation known as shuanggui.
Though shuanggui is meant to serve as a period of fact-gathering, leading to a determination of charges, it has turned into a process of lengthy internal bargaining between the Communist Party and offending officials. The prosecution of party officials remains highly sensitive. To maintain control of the process, the party engages in internal discussions, including sentencing guidelines, before handing over the case to the judiciary, which then goes through the motions of a trial.
Few question President Xi Jinping's commitment to fighting corruption. He has used this secretive process liberally to remove government officials as part of his campaign. The CCDI has investigated more than 30 high-level officials since Xi took office, including at least 18 in the last six months.
Xi has couched his antigraft efforts in terms of a grand awakening to justice and the rule of law. At the Communist Party's Third Plenum in March, Zhou Qiang, president of the Supreme People's Court, said:
[Courts should] actively participate in the struggle against corruption, increasing the strength of corrections against corruption crimes in accordance with law, following the idea of striking at both 'tigers' and 'flies' together.
Yet Zhou's characterization of the court's role in fighting corruption is telling: China incorrectly measures judicial independence by the severity of the punishments issued and the rankings of officials brought to justice.
Though some may argue that striking at both "tigers" and "flies" amounts to judicial fairness, it does nothing to bolster claims to independence and integrity. Courtroom rubber-stamping of the party's desired outcomes is the antithesis of the impartial carriage of due process -- no amount of gratifying corruption sentences can belie that. If China is serious about judicial reform, it must respect independent legal proceedings. Due process also means that any legal decisions made outside the courtroom should be reached within the boundaries of the law, not on an ad-hoc basis through negotiations with party authorities.
As upper party leadership is fast discovering, the alternative is a world in which people tend to assume that legal outcomes are politically driven. Many Chinese believe, for instance, that Xi is cherry-picking his targets, focusing on political rivals.
Another unintended consequence of the campaign has been to retard the government's ability to implement badly needed reforms. At a recent State Council meeting, Premier Li Keqiang expressed frustration with local inaction on his directives to streamline the government, also one of Xi's cherished goals: "Such mediocre and slothful management is also a type of corruption."
What Li can't easily get around, though, is that attracting unwanted attention and getting caught in a corruption probe is a far more pressing concern for party officials than pruning bureaucratic red tape. (One measure of their anxiety: Chinese state media has reported 62 "unnatural" deaths among officials since last year. Of those deaths, at least 32 were suicides.) The arbitrariness of the way in which the legal process works might lead to corrupt party members being replaced with ones too scared to work.
The Communist Party's recently proposed reforms may seem liberal, but they only continue legal traditions and explicitly preserve the party's input in the judicial process. The only way to fix China's dilemma is to have an independent judiciary that carries out the law and sets expectations for future cases based on sound practice and sentencing.
In the past, the party pointed to China's dysfunctional political situation to justify its uncompromising grip on the law. Now that the party has presented its legal reforms, that defense should no longer stand unchallenged.
This column does not necessarily reflect the opinion of Bloomberg View's editorial board or Bloomberg LP, its owners and investors.