Trade of the Day: Dabble in World's Most Boring Currency
The Trade of the Day is to soothe your blood pressure by dabbling in the world's most boring currency.
by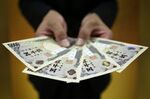 Frazzled by your frenetic day-trading efforts on the currency-speculatingwebsites, but unable to quite kick the habit of trying to predict the ups and downs of the foreign-exchange market? Japan may have the answer.
The yen is the "most boring currency in the world," according to David Bloom, the global head of currency strategy at HSBC. It's going "absolutely nowhere" and is a "leave-me-alone" currency, hetoldBloomberg TV today.
So the Trade of the Day is to trade yen. As the chart shows, its highs and lows against the dollar have been a lot narrower in the past three months than for either of the other two main currency pairs, euro/dollar and pound/dollar. So you can soothe your blood pressure while still feeding your need to trade.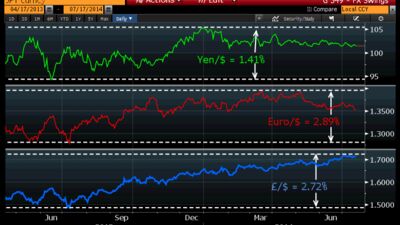 This column does not necessarily reflect the opinion of Bloomberg View's editorial board or Bloomberg LP, its owners and investors.