The Real Message of the BRICS Summit
Global financial management must adjust to a new reality.
by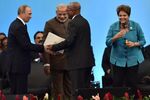 Many have portrayed this week's summit among Brazil, China, India, Russia and South Africa as yet another highly visible nonevent. What it produced, the logic goes, was a new development bank and a currency pool that unnecessarily duplicate functions of the International Monetary Fund and the World Bank.
What they're missing is the troubling message the BRICS summit sends about the state of global financial management.
Three forces unite the BRICS, a term coined more than 10 years ago by Jim O'Neill, then chief economist at Goldman Sachs. They play a growing role in the global economy, both collectively and -- in the case of China -- individually. They are dissatisfied with a Western-dominated international monetary system that has failed to evolve along with the global balance of economic power. They are frustrated with the dearth of leadership from developed nations weakened by financial crises.
Skeptics of the BRICS note that the five countries have little in common in terms of culture, language or history. They have also hit some significant potholes recently, most notably slowing economic growth. Their collective power, if applied in an isolated fashion, seems insufficient to make a lasting difference for them and for the global economy.
Yet the creation of the development bank, along with the $100 billion currency-stabilization fund, reflects the BRICS countries' broadening effort to bypass global financial institutions that are losing their faith and support -- an effort that has included other multilateral and bilateral initiatives, such as special cross-border payment arrangements.
From the start, the initiative has, unfortunately, not proved immune to the political challenges that long-established regional banks and the World Bank have faced. The founders of the development bank disagreed on where it should be located and chose to award the presidency based on nationality rather than merit. Also, Russia tried to exploit the gathering as a venue to mobilize criticism of the U.S.
More important, the BRICS' efforts at global realignment lack broader coordination and holistic coherence. The problem accentuates what political scientist Ian Bremmer has called the "G-zero" phenomenon -- the increasing inability of any single country or group of countries to act as an effective global coordinator with the power to inform, influence and at times impose solutions.
In short, the BRICS summit went well beyond just words in illustrating a global fragmentation process that is picking up speed. The crucial takeaway for the West should be that getting things back on track will require a much more serious effort to reform the international monetary system in a way consistent with today's global realities.
This column does not necessarily reflect the opinion of Bloomberg View's editorial board or Bloomberg LP, its owners and investors.