Malaysia's Airplane Nightmare Repeats in Ukraine
News of the crash of Flight MH17 first reached Malaysia through social media around 11:30 p.m. on Thursday, and the first reaction of many was simple and predictable: how could this happen again?
by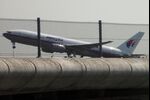 News of the crash of Flight MH17 first reached Malaysia through social media around 11:30 p.m. on Thursday, and the first reaction of many was simple and predictable: how could this happen again?
After all, it's only been four months since Malaysia Airlines MH370 disappeared en route from Kuala Lumpur to Beijing. The rest of the world may have turned its attention elsewhere, but in Malaysia MH370 remains a collective national tragedy that cannot be forgotten so long as the plane and its passengers and crew remain missing. MH17 is a different kind of disaster, but the fact that it involves yet another jet from the national carrier that Malaysians once took so much pride in only heightens the horror and shock.
It's early, yet, to know precisely what happened. Perhaps, as some preliminary reports suggest, MH17 was flying over a conflict zone that some airlines were already avoiding. If that's the case, then Malaysia Airlines, and the Malaysian government that controls it, will feel the renewed ire of citizens who were confounded by the disorganized response and seemingly contradictory stories of the Malaysian leadership regarding MH370.
And if, as seems almost certain, MH17 was the innocent victim of a rocket attack, then the Malaysian government's biggest challenge will be convincing its citizens that it's playing a meaningful role in the rescue and recovery operations, as well as any subsequent investigation. That's not going to be easy. There's no reason to believe that the Malaysian military or its search and rescue teams are trained or prepared to deploy to Europe. More likely than not, whatever Malaysian personnel are deployed to the region will be aided by another country's military. That's perfectly reasonable, and nothing to be embarrassed about, but with the memory of MH370 so fresh, it's going to be an uncomfortable echo of Malaysia's necessary reliance on Australia and other countries to find the missing plane.
Such concerns clearly have informed the official reactions to MH17, the first of which appears to have come from Minister of Defense Hishammudin Hussein, via Twitter, at 11:55 PM. Roundly criticized for his contradictory answers at press conferences in the immediate wake of MH370, this time he pressed his certainty. "No confirmation it was shot down!" he tweeted. "Our military have been instructed 2 get on it!" Ten minutes later, Prime Minister Najib Razak offered a calmer Twitter reaction more in keeping with what might be expected post-MH370. "I am shocked by reports that an MH plane crashed," he tweeted. "We are launching an immediate investigation."
In all likelihood, most Malaysians obtained their news of MH17 from these tweets and whatever foreign news sources they could find online. In Kuala Lumpur, at least, local broadcast television stations didn't bother to break into their normal programming (which, as the news broke, included pro wrestling), but rather relied on screen crawls. News sites, meanwhile, relied on foreign copy. To an extent, this is understandable: the story broke and developed in the middle of the night.
But that's not to say the news has been overlooked. At 2 a.m., I could look out my window and see an unusual number of lights on in the various high rises in my neighborhood of suburban Kuala Lumpur. Some, no doubt, were watching CNN. But many more, it seems, were logging into social media to mourn the dead and the fact that a tragedy has struck this officially Muslim country during Ramadan. The political fallout from MH17 will wait to later. Right now, in the middle of the night, Malaysia is numb.
This column does not necessarily reflect the opinion of Bloomberg View's editorial board or Bloomberg LP, its owners and investors.