Israel's Justified Incursion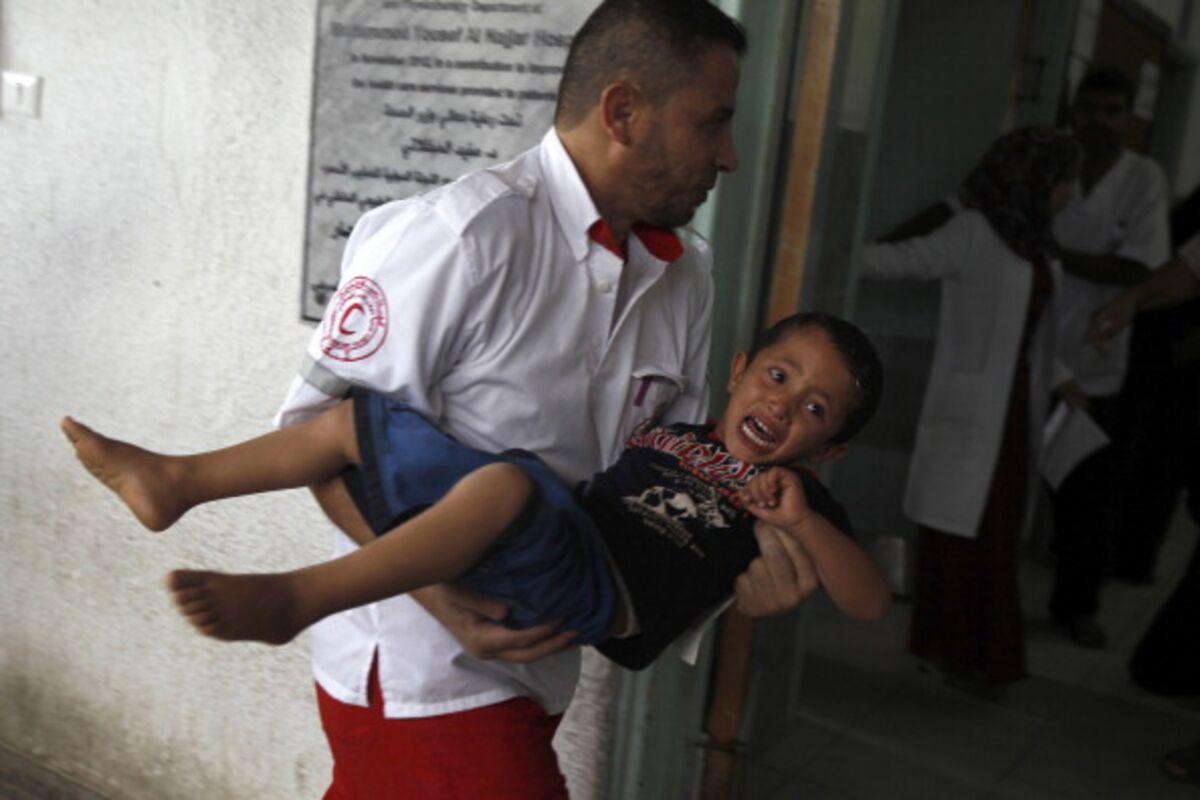 A member of the Palestinian Red Crescent Society carries an injured child at a hospital in the southern Gaza Strip following an Israeli airstrike.
Israel may yet launch an all-out ground invasion of the Gaza Strip. So far, however, its incursion across the border appears not to be that, but rather a moderate step. And Israel is justified to take it, given Hamas's practice of sending death squads into Israel.
Until now, the battle -- provoked by the killing of Israeli and Palestinian teenagers -- had been fought mainly from the air, with Gazans launching mortars and rockets into Israel and Israelis using aircraft, artillery and gunboats to strike back. Israel's calculus changed after 13 heavily armed Palestinians tried to launch an operation apparently aimed at an Israeli town on the Gaza border. The gunmen were seen emerging from a tunnel near Kibbutz Sufa, then rushing back down just before the Israelis bombed the entrance.
A week earlier, four Hamas fighters attempted to land on the beach in the Israeli city of Ashkelon but were killed by Israeli forces. The prospect that Hamas might succeed at one of these operations pushed Israeli Prime Minister Benjamin Netanyahu to act. Hamas's refusal to accept the conditions of a cease-fire proposed by Egypt gave him the leeway. And so, appropriately, Israel is moving armored forces inside the border. Their mission, according to the government, is limited: to destroy the tunnels that Palestinian militants have dug to infiltrate Israel.
This mission is not as dangerous as one aimed at finding and destroying the Hamas rockets and launchers that the air campaign cannot reach. Such a broader campaign would require Israeli forces to enter Gaza City and other populated areas, and casualties would almost surely multiply. The border areas are lightly populated.
There's little doubt that Hamas will try its utmost to harass the Israelis -- with sniper fire, improvised explosive devices and suicide bombings. With only one Israeli dead despite the militants' launching more than 1,000 rockets from Gaza, they are desperate for at least a symbolic victory in this battle before they consent to a cease-fire. The Israelis can be expected to take every precaution to deny them one.
--Editors: Lisa Beyer, Mary Duenwald.
To contact the editor on this story:
David Shipley at davidshipley@bloomberg.net