Chris Christie Still Won't Be President
Chris Christie is campaigning in Iowa. He probably won't make a habit of it. 
by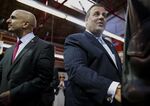 It seems a trip to Iowa can turn the world upside down. The New York Times reported this week that New Jersey Governor Chris Christie's admirers suggest his "personality" and gift for gab can propel him back into the presidential game.