Superhero Needed to Fight U.K. Sexism
Maybe new female superhero Thor can fix the sexism that still haunts Westminster.
by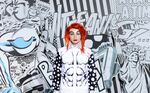 In a week featuring the largest takeover by a female chief executive officer and an announcement from Marvel Comics that it will recast hammer-wielding superhero Thor as a woman, it's sad that sexism still haunts the corridors of Westminster.
Prime Minister David Cameron yesterday simultaneously promoted Tina Stowell as leader of the House of Lords, and downgraded the role to a non-cabinet position -- meaning she'd be paid 22,147 pounds ($38,000) less than her male predecessor, Jonathan Hill. After Bloomberg reporters Robert Hutton and Thomas Penny revealedthe insult, the Conservative Party decided to use its own funds to supplement her government salary.
It was an embarrassing snag in a reshuffle designed to promote Cameron's progressive credentials, by replacing male, pale and stale politicians with more fresh female faces. The Guardiannewspaper calculates that 24 percent of the ministers entitled to attend cabinet meetings are now female, up from 15 percent prior to the reshuffle. The Stowell debacle, however, suggests Westminster still echoes the pay disparities in society, rather than leading by example to fix them.
Business is slowly -- too slowly -- tackling sexism. Reynolds American Inc. is paying about $25 billion for fellow tobacco purveyor Lorillard Inc. in the largest deal ever overseen by a woman. However, Reynolds chief executive Susan Cameron remains one of only 25 female CEOs at Fortune 500 companies.
Maybe comic books can lead the way. Marvel Comics said yesterday that the October issue of Thor will become its latest title led by a female protagonist:
The new Thor continues Marvel's proud tradition of strong female characters like Captain Marvel, Storm, Black Widow and more. Thor will be the eighth title to feature a lead female protagonist and aims to speak directly to an audience that long was not the target for super hero comic books in America: women and girls.
Politics may get a chance to redeem its sexist self in the next few years, with Hillary Clinton still bidding to become the first female U.S. Presidential candidate.
The U.K. may prove even more intriguing; it's possible that the election-after-next could feature Theresa May, currently the longest-serving home secretary for half a century, as the Conservative Party leader, facing Yvette Balls, currently shadow home secretary, as leader of the opposition Labour Party. An election in which voters didn't have the option of voting in a male prime minister -- now that would be progress.
This column does not necessarily reflect the opinion of Bloomberg View's editorial board or Bloomberg LP, its owners and investors.
To contact the author on this story:
Mark Gilbert at magilbert@bloomberg.net
To contact the editor on this story:
Marc Champion at mchampion7@bloomberg.net
Before it's here, it's on the Bloomberg Terminal.
LEARN MORE