What's So Beautiful About Deleveraging?
Yes, the U.S. economy has deleveraged by shedding debt, but much of the change is the result of a large increase in asset valuations.
by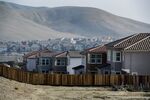 Regular readers of mine know I spend lots of time debunking bias and cognitive errors. With the markets up as much as they have been, it has been easier to find examples of that error in the bearish camp than the bullish one (See this as an example of cognitive bias in action).

The bulls are just as likely to engage in selective perception and confirmation bias as their ursine counterparts. In the spirit of fair play and equal criticism, I should point out that the rallying market has provided them cover, allowing them to look more correct -- and therefore less biased -- than the bears. However, we much prefer to look at investing as a process rather than based on outcomes. Let's hope that helps us avoid getting fooled by dumb luck.
Which brings me to today's charts. The first one has been getting touted by the bulls as a sign that all is well, the consumer is back, and there is lots more upside in equity markets. A closer look reveals that you can't conclude any of that based on this chart.
Our first chart courtesy of the St. Louis Fed's data archive Federal Reserve Economic Data (aka FRED), which shows that the amount of debt the American consumer is carrying has tumbled. Relative to assets, it really appears that the "beautiful deleveraging" described by hedge-fund manager Ray Dalio is making excellent progress.

However, this chart is a ratio. Experience -- very, very expensive experience -- teaches us to ALWAYS look at the components of any ratio separately, as it can be quite revealing.
When we look at the two components of that bullish deleveraging chart, well, it becomes a little less bullish.
The next chart shows that deleveraging has been taking place since 2008 or so and that liabilities have declined almost $1 trillion from their peak. That's a positive sign.

Let's look at one more chart indicating changes in total asset values. They too fell during the financial crisis. Since then, however, asset values have gained about $25 trillion. Home prices are up significantly from their lows, and as of last year, equity prices are above their 2007 highs.

It is important to note that total assets are more than six times the size of total debt. However, the deleveraging that is occurring is being driven by asset gains over debt reduction by a ratio of about 25-to-1.
That is a much less beautiful deleveraging than the bulls are claiming.
This column does not necessarily reflect the opinion of Bloomberg View's editorial board or Bloomberg LP, its owners and investors.
To contact the author on this story:
Barry L Ritholtz at britholtz3@bloomberg.net
To contact the editors on this story:
James Greiff at jgreiff@bloomberg.net
James Greiff at jgreiff@bloomberg.net
Before it's here, it's on the Bloomberg Terminal.
LEARN MORE