Pam Oliver Gets Sidelined From the Sideline
Yesterday, Sports Illustrated's Richard Deitsch broke the news of a major shakeup in the world of sports media. 
by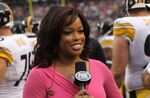 Yesterday, Sports Illustrated's Richard Deitsch broke the news of a major shakeup in the world of sports media. Pam Oliver, Fox's No. 1 sideline reporter for the past 19 years, has been replaced by Erin Andrews heading into the 2014-15 season.
Oliver will remain on the sideline, working alongside the network's second-string team of Kevin Burkhardt and John Lynch, while Andrews will occupy the top spot with Joe Buck and Troy Aikman in the booth. After this season, Oliver will continue at Fox doing "long-form pieces, specials, major interviews, and some producing," as well as her role on Showtime's "60 Minutes Sports."
Fox is trying to paint the move as a promotion, but make no mistake: This is an insult to a veteran reporter who is generally well-regarded throughout football. It also says a lot about the state of the sports industry for women today.
This isn't to denigrate Andrews or say she's unqualified. She is a respected member of the sports press, and to some extent has become the face of the struggles confronting women in sports, literally. Andrews' undeniable beauty has often served to obscure her sports acumen, a problem with which female sports reporters contend every day. Attractive women in all industries constantly deal with their qualifications being questioned. (Yes, she may not have helped her credibility by appearing on "Dancing with the Stars," but she certainly didn't deserve this sort of criticism.)
Through no fault of her own, Andrews' promotion demonstrates that qualifications aren't paramount in choosing female sideline reporters. She began her career with Fox Sports Florida in 2000 before spending eight years at ESPN, and rejoined Fox in June. It makes sense that the network would expand her role. But, as Deitsch put it, removing Oliver from the top sideline job "seems counter to what a sports network should want in an NFL reporter." In short, the 53-year-old's demotion seems to have nothing to do with football and everything to do with age, race and gender.
"She's not blonde, nor is she in the demographic," an unnamed NFL reporter told Deitsch of Oliver. We should all hope to look as good as she does at 53, but she simply doesn't have the broad aesthetic appeal of Andrews. This shouldn't matter, but a quick Google search for "female sideline reporters" should show you just how much it does. As I wrote in January, when I conducted this complex experiment in another piece about women in sports media, you see articles such as, "The 25 Hottest Sideline Reporters Right Now," "The Sexiest Female Sports Reporters of All Time" and "10 All-Star Female Sports Reporters" (which sounds promising until you see that the preview blurb describes the struggles of applying mascara next to a locker-room urinal).
Why aren't women in sports media taken seriously? For one thing, the entire concept of sideline reporting is something of a joke. Good sideline reporting takes skill and vast knowledge, but bad sideline reporting is much more ubiquitous -- the sort of trite line of questioning displayed in this widely shared meme. Most sports fans think of sideline reporting as generally vapid, and since most sideline reporters are women, they draw the erroneous conclusion that female sports reporters themselves have no place in the game. As such, they're grossly misused, employed to elicit generically emotional responses from athletes and regurgitate soundbytes rather than provide context and injury updates -- you know, news.

It doesn't have to be this way: When the air conditioning malfunctioned during Game 1 of the 2014 NBA Finals, Doris Burke demonstrated the potential value of sideline reporting, holding up a thermometer that had the temperature in AT&T Center at 90 degrees, showing the viewer just how hot it was in a tangible way.
But a bigger problem than the general uselessness of most sideline reporting is that it seems to be the only role available to women. Relegated to the sidelines, their most valued assets are being telegenic and personable. In addition to Burke, who has broken many modern barriers for women in the broadcast booth, reporters such as ESPN's Beth Mowins and Kara Lawson handle play-by-play and color duties with aplomb. Of course, you wouldn't know it from the reaction they get on Twitter, but if we continue to promote women to the higher reaches of sports broadcasting, audiences will grow accustomed to them and be able to concentrate on what they're saying rather than what they're wearing.
Anne Doyle, a pioneer for women in sports reporting who fought to open locker rooms in the 1970s and now works to help females thrive in male-dominated industries, noted the two most pressing dangers of sports media's current aversion to talented women:
First, credentialed, skilled female broadcasters are competing for air-time with "smokin hot" babes. How long would Brent Musburger last if his contract depended on his ability to attract female viewers, measured against the likes of Ryan Gosling?

Second, sports crazy young girls are getting powerful messages that beauty queen titles and tight pants may be hotter tickets to careers in sports than athletic scholarships or college degrees.
Andrews shows that beauty and sports knowledge aren't mutually exclusive. Unfortunately, Oliver's demotion sends the message that the former is the primary asset, while the latter is just gravy. As female sports fans continue to gain prominence among teams, leagues and marketers, networks will have to adjust their game plans to accommodate the need for women on the sideline and in the booth who are more than just eye candy.
This column does not necessarily reflect the opinion of Bloomberg View's editorial board or Bloomberg LP, its owners and investors.