Millennials Want Apps, Not Cars
Helsinki will test a "mobility as a service" system covering all modes of transportation, proposed by a graduate student. She knows what she's talking about: her generation is more into apps than owning cars.
by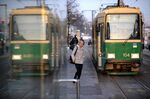 Early next year, the Finnish capital of Helsinki will start testing an idea designed to make car ownership unnecessary -- mobility as a service, or MaaS. A single route-planning and payment platform will include all available modes of public transportation, from city bikes to ride-sharing services. It's an ambitious plan that may be the blueprint for the not-so-distant future of most big cities as millennials gain more power, using the consumption model they like and understand best.
Finland is known for its innovative and efficient education system, perhaps the best in Europe. So there's nothing special about the fact that Helsinki's MaaS experiment is based on a master's thesis by Aalto University graduate student Sonja Heikkila. Helsinki's City Planning Department commissioned the thesis, and Heikkila, 24, now works there. So she's not just a qualified transport engineer, she's a millennial, and she understands what's wrong with the current system from her generation's point of view: It relies too much on ownership.
"Millennials are used to consuming more than their parents," Heikkila wrote. "However, they prefer to consume experiences and services, such as traveling and eating out, rather than possessions." They travel more for pleasure than out of necessity, because they can get most of what they want on the internet. Unlike baby boomers and Generation X, it's from the internet that millennials derive their sense of freedom, not from owning cars. In Stockholm, for example, only 9 percent of people get a driving license at the age of 18. While Finland lags that trend with a 40 percent license rate for young adults, it compares with the more than 70 percent of U.S. high-school seniors licensed to drive -- and even there, the rate is declining.
For millennials, then, the ideal way to get around would be a smartphone app that accepts a starting point and an end point, plus perhaps a few preferences, then organizes the trip and charges for it. The app might, for example, tell the customer that a ride from a car-sharing service was available right around the corner, or she could take a bus to such-and-such a stop and then change to a city bike, or that a taxi or Uber car (not yet available in Helsinki) could pick her up in 20 minutes. The user would then pay for the preferred option, and go. Alternatively, she could buy a monthly ticket covering a certain number of rides of every kind.
Helsinki has already tested app-based transportation with Kutsuplus minibuses, which you hail through an application developed by startup Ajelo. New pick-up points are added en route, and the system delivers passengers almost as fast as a taxi for a fraction of the price. The project, however, is small, and its founders are somewhat frustrated by their interactions with less-than-flexible city authorities. There is also a relatively popular car-sharing service, City Car Club, which has 3600 users in the metropolitan area of 1.1 million and is subsidized by the city.
Heikkila's idea would theoretically unlock the power of private companies wanting to build transportation businesses to serve the car-less millennials. They would sign up for the general platform used by everyone in the city, and the best ones would prosper. Uber and Lyft could slug it it out with regulated taxis, flexible bus services like Kutsuplus, even bike-rental companies. City subsidies would no longer go directly to transport providers, but to the MaaS system. "Such direction of funding would provide latitude to service operators to innovatively fulfill the mobility needs," Heikkila wrote. "This way, funding could also be better directed according to demand."
The platform can probably be built, too. It could combine elements of Yandex Taxi, the dispatching service for hundreds of private taxi companies in Moscow, and Hong Kong's Octopus card, used to pay for transit using various modes of transport from buses to boats (though not taxis) as well as small purchases in a variety of stores and restaurants. When Helsinki -- or some other city with enough ambition and programming talent -- produces the first working system of this kind, others will certainly follow.
We older folks will probably use MaaS, too: For Helsinki, the target year for a fully functional system covering the entire city is 2025. I'm not sure, though, that the millennials will persuade my wife to abandon her weekly grocery shopping trip in favor of buying online ("How do I know that stuff is fresh?") or turn me off long drives on country roads (which aren't about getting from A to B). Perhaps driving will become like smoking: A pleasurable but dying habit that's bad for you and bad for the environment.
This column does not necessarily reflect the opinion of Bloomberg View's editorial board or Bloomberg LP, its owners and investors.
To contact the author on this story:
Leonid Bershidsky at lbershidsky@bloomberg.net
Before it's here, it's on the Bloomberg Terminal.
LEARN MORE