Man Dislikes Unaccountable Capital Markets Death Panel
Michael Piwowar has strong feelings about the Financial Stability Oversight Council.
by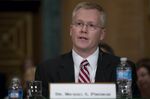 Do you have strong feelings about the Financial Stability Oversight Council? Probably not, right? I mean, it's the Financial Stability Oversight Council. It's a bunch of regulators getting together to regulate how they regulate. It's, like, meta-boring.
Michael Piwowar has strong feelings about the Financial Stability Oversight Council. Here are some things he said about it today:
I thought a lot about what moniker I could use to best describe the FSOC. The Firing Squad On Capitalism. The Vast Left Wing Conspiracy to Hinder Capital Formation. The Bully Pulpit of Failed Prudential Regulators. The Dodd-Frank Politburo. The Modern-Day Star Chamber. You get the point.

I do, yes, but why don't you go on anyway?
There are countless terms I could use that are appropriately pejorative and at the same time entirely accurate. For the sake of clarity, I will stick with references to the two official nicknames of the FSOC -- the "Council" or the "Unaccountable Capital Markets Death Panel."

I can't find that second "official nickname" on the FSOC's website but, sure, I'll take your word for it.
As many of you know, I have spent much of the last year trying to attend the Council's meetings as a non-participating guest. I am very disappointed, but not surprised, that my requests have been rebuffed.

I also am not surprised! Out of curiosity, though, what would you say if they did let you in the door?
I have far too many concerns about the Council to touch on all of them in the limited time we have. In fact, compared to my list of concerns, the Colonists' 27 grievances against King George III and Martin Luther's 95 Theses protesting clerical abuses seem remarkably terse.

Oh, hmm, yes, well in that case I can see why they left you off the agenda?
But Michael Piwowar is not just a man who never goes to a meeting without a list of grievances. He's actually a Commissioner of the Securities and Exchange Commission, so his job is to regulate financial markets. And he doesn't like the FSOC because the FSOC is a natural enemy of the SEC.
To understand that you need to understand where the FSOC came from. Here's a simple and argumentative version of that history: 1
There was a financial crisis.
A whole lot of the crisis took place at entities (Lehman Brothers, Bear Stearns, money market funds) that were regulated by the SEC.

The people in charge of fixing things after the crisis said, look, the SEC is OK at protecting consumers from pump-and-dump scams or whatever.
But it's not as good at providing systemic stability.
I mean, look at its capital requirements, they're a joke. Bear was 42 times levered.
The Fed, on the other hand, has systemic stability as its job, so it does capital regulation and lending-as-a-last-resort and generally has a unified set of tools for stabilizing a financial system.
So let's put the Fed in charge of the whole financial system, not just the banks, and leave the SEC to do consumer protection.
Oh wait, we can't do that, something something politics. It's hard to demote an agency.
OK, well let's at least give the Fed (and the similarly systemic-minded Treasury) sort of a last look at everything the SEC does that might impact stability, and some ability to suggest stability-enhancing changes to the SEC.
Well we can't really do that either, that's still pretty rude, and still an obvious demotion for the SEC.
OK, let's have a financial-regulatory super-council on which every agency is represented, and which can give the SEC those stability nudges. 2 And then let's fill it with Fed and Treasury people.
You can understand why Piwowar would find the FSOC uncongenial. The FSOC's whole existence serves as a scolding of the SEC. Also, its actual activities consist mostly of scolding the SEC, most notably about money market mutual fund regulation. The Fed -- or FSOC, whatever -- thinks that money market funds, with their fixed $1 price per share, their maturity transformation function and their issuance of money-like claims with no capital buffer, are systemically dangerous. The SEC thinks that they're good for consumers. Obviously both things are true. If you're a consumer-focused regulator, you don't want to mess with money funds. If you're a stability-focused regulator, you do. It so happens that money funds have always been subject to the oversight of a consumer-focused regulator. And that regulator is now sad to lose turf.
Piwowar's complaints are entirely about turf, and never about substance: 3 What matters is that his toes are being stepped on, not why.
I am resolved to defend our jurisdiction from the prudential regulators' Council-enabled turf war, but the prudential regulators are mounting a coordinated behind-closed-doors assault that is currently six times the size of our defensive team.

Why are they doing that? Well, today Goldman Sachs reported earnings. Goldman is a systemically important financial institution. It is also subject to Fed regulation, since it's a bank holding company. 4 It used to be subject only to SEC regulation, but that didn't work out so great for anyone, so now it's a bank.
As part of being a bank, Goldman has been shedding assets to comply with the various and proliferating capital requirements imposed by prudential regulators like the Fed. From today's earnings: "Total assets decreased $56 billion to $860 billion as of June 30, 2014, resulting from a firmwide initiative to reduce activities with lower returns, including certain client secured financing activities," as capital requirements and the Fed's CCAR stress tests have imposed higher costs on banks' balance sheets. 5 On the call, Chris Kotowski at Oppenheimer & Co. asked: 6
I mean $56 billion isn't a lot in assets, and if you view them as CCAR onerous, surely every other financial institution in the world views them as CCAR onerous. So just curious, who took your side of the trade or I mean is it non-bank financials? Is it funds? Is it -- or is it just that there's a complete tear-up and those positions don't exist in the marketplace anymore?
Goldman's answer is worth reading as commentary on the banking business, 7 but for our purposes what's interesting is the not banking business. You can see here, as it happens, the Fed's efforts to impose prudence on banks working, with banks cutting back on businesses that used to be attractive but that don't work well within the Fed's framework. 8
But surely the question is right: That activity needs -- or, at least, wants -- to go somewhere. And low-risk, low-return, highly levered securities financing seems like exactly the sort of thing that would cheerfully migrate to the shadow-banking world -- to money-market funds, to asset managers -- if it doesn't find a comfortable home at banks. (Really, matched-book repo is just intermediating this trade between hedge funds and money market funds.) And if you think it's dangerous at modestly capitalized banks, you might think it's even more dangerous at un-capital-regulated shadow banks.
Piwowar again:
I am particularly troubled by Governor Tarullo's recent speech in which he unabashedly suggested that there is a "need to broaden the perimeter of prudential regulation, both to certain nonbank financial institutions and to certain activities by all financial actors." Let me repeat that -- all financial actors. Governor Tarullo emphasizes the need for "macroprudential regulation," which is a term that lends itself to bringing anything and everything into the prudential regulators' scope.

Well, sure. But financial regulation is an activity that lends itself to pushing everything out of the regulators' scope. If there's a scope, outside of it is the profitable place to be. If you're a prudential regulator, expanding your scope is really the only way to make your regulation effective, instead of just pushing risk into places that are off-limits to you. But expanding your scope is inevitably going to make some people angry. And if those people have a public platform, well, they're going to complain.
To contact the author on this story:
Matthew S Levine at mlevine51@bloomberg.net
To contact the editor on this story:
Zara Kessler at zkessler@bloomberg.net
Before it's here, it's on the Bloomberg Terminal.
LEARN MORE