'Melo Pays the High Price of Living in New York
LeBron is a hero for returning to his home. Carmelo is lambasted for doing the same. The big difference is geography.
by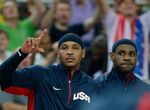 The major dominoes in NBA free agency finally fell this weekend, and Knicks fans can breathe easy now that Carmelo Anthony has officially decided to stay in New York.
Phil Jackson can also relax a bit: Not only does he keep his star player, he restores some of the "mystique" that was lost when Steve Kerr decided to coach the Golden State Warriors. To borrow a phrase from Grantland's Netw3rk, the "superstar whisperer" somehow managed to convince 'Melo to buy into his plan for the Knicks' future.
Of course, this isn't how the majority of sports reporters are framing the announcement: "Carmelo decides to cash in," ESPN's J.A. Adande writes. "Carmelo Anthony staying with Knicks is all about dollars and sense," says the New York Daily News' Mike Lupica. Even Pierre the Pelican got in his two cents on 'Melo's millions.
Was 'Melo's decision about the paycheck? Of course it was. Nearly everything in life is in some way informed by money, even -- or especially -- when you're already a multimillionaire. But the sports world's take on 'Melo staying in New York has been fervently cynical, especially compared to the universal applause LeBron James received for making a remarkably similar decision.
A superstar decided to sign with his hometown team for, yes, a boatload of cash, and announced it in a tasteful, first-person note. The main difference between LeBron's vaunted homecoming and 'Melo's own declaration isn't the player, his reputation, or the money that wasn't left on the table. It's the city in question.
As Deadspin's Drew Magary writes, LeBron's decision to return to Cleveland is painted as a benevolent act of your prototypical American hero replete with Rust Belt ideals: humble, hardworking, loyal to his hometown. Like many, I praised the move as a sign of his maturity and long-term outlook. But while LeBron is "just a kid from Akron," 'Melo has the unfortunate privilege of calling New York home, and he thus isn't afforded any of the sympathy or gratitude given LeBron.
Never mind that the money situation actually could cast 'Melo in a slightly more positive light. LeBron made clear he was seeking the maximum salary for next season from every team he considered, which would have been a four-year contract worth more than $88 million with the Cavs. Yesterday, however, USA Today reported that his deal is for just two years, $42.2 million. The NBA is expected to sign a new TV deal that would increase max salaries, and LeBron reportedly plans to negotiate a new deal with the Cavs for more money after that. It's a savvy business decision that rightfully allows the best player in the game, who took a pay cut to go to Miami, to sign a contract that reflects his worth, with the added benefit of an exit strategy from Cleveland should he change his mind in 2016.
Meanwhile, Jackson told reporters that 'Melo did make a few concessions for the good of the team. He's still pulling in much, much more than he would have received in Chicago, but 'Melo agreed to take about $6 million less than the max in a deal worth about $122 to $123 million over five years. In addition, 'Melo reportedly relinquished his annual 7.5 percent raise in the second year of his new contract. As a result, Jackson and the Knicks will have about $2 million more cap space in 2015 -- not a terribly exciting sum, but not nothing. As Jackson himself said, "He did exactly what we kind of asked him to do."
None of that matters, however. If, as Magary notes, the praise of LeBron indicates our collective desire to uphold "Midwestern values" as the beacon of American bootstrapping, the criticism of 'Melo is the dismissal of those values at the hands of the almighty dollar in an elite city. It's much easier to cast money as the primary motivator in a city of bankers and the Yankees and Donald Trump while lauding LeBron for returning to the Real America.
At the end of the day, however, sportswriters know they could very well be vindicated for the disingenuous bifurcation of 'Melo and LeBron's decisions. The Cavs have a promising core of young talent and a bright outlook, while questions remain on what the Knicks can do with the small amount of wiggle room they have in their cap space. If LeBron fails to win a championship in Cleveland, he'll still be eulogized for giving it the ol' Heartland Try. If 'Melo retires ringless, his basketball obituary will be riddled with questions of what might have been.
That's the price you pay when you play in New York. But if he succeeds, 'Melo will have earned himself a Real American victory parade down the Canyon of Heroes.
This column does not necessarily reflect the opinion of Bloomberg View's editorial board or Bloomberg LP, its owners and investors.