Why Adidas Beat Nike at the World Cup
Adidas beat Nike in the sports outfitters' World Cup because it has a better understanding of soccer.
by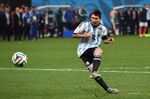 In the 2014 World Cup of sporting goods companies, Adidas has beaten Nike hands down. The mechanics of that victory are remarkably similar to those of Germany's success on the field: It's all about smarts versus flash.