Putin's Costly Trip Down Memory Lane
Vladimir Putin is using money put aside for Russia's future to fund mega-projects reminiscent of the country's Soviet past.
by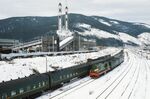 Russian President Vladimir Putin is preparing to spend billions of dollars on a bizarre trip into the Soviet past, restarting construction on the storied and ill-starred Baikal-Amur Mainline railroad. Sadly, Putin's nostalgia will come at great cost to the country's future.