What Good Is a Crash to Prevent a Crash?
Just because some people believe they see asset bubbles doesn't mean the Federal Reserve should raise interest rates now.
by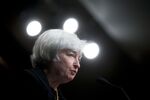 Asset prices, by historical measures, are high across the board. The reason seems simple: Low risk-free rates, courtesy of the Federal Reserve, are driving investors out of cash and into risk assets. To many, the implication is clear: The Fed needs to raise interest rates in order to prevent a destabilizing market crash.