The End of `Made in Japan'?
Economists in Japan are clamoring for another jolt of monetary audacity after Prime Minister Shinzo Abe's ill-advised tax hike in April. They're right -- the Bank of Japan should act.
by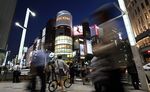 Historical comparisons can admittedly be facile. But given the bleak turn Japanese economic data has taken, I can't help but be reminded of the downturn in 1997, the last time Tokyo raised sales taxes.