The Court Case That Could Kill Obamacare
A pending court case could be ruinous for Obamacare.
by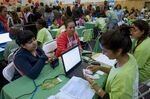 The Affordable Care Act has overcome a Supreme Court challenge, persistent Republican opposition and the initial dysfunction of its own website.
It could still fall victim to another foe: its own language.
Any day now, a federal court may rule that in 36 states, the federal government can't offer tax credits to people who buy insurance on Obamacare's exchanges. That's because the law, as written, authorizes those tax credits only in states that have set up exchanges -- and most states refused to do so.
The law says that when states fail to establish an exchange, the federal government can operate one for the state's residents. It does not, however, say that people who buy insurance from the federal exchange can receive tax credits.
Obamacare's foes are in the paradoxical position of insisting that the law be obeyed. If the government can't offer credits in most states, it also can't impose various taxes and penalties that are tied to those credits. The Internal Revenue Service is thus threatening to levy taxes that Congress hasn't really authorized.
And without the credits, Obamacare basically disintegrates: Far fewer people would be able to afford the insurance policies without the subsidies, especially because Obamacare's regulations jack up their prices.
The White House argues that the law shouldn't be interpreted in a way that defeats its purpose and renders it unworkable. But it isn't in principle absurd for the federal government to try to use tax credits as a carrot to get states to set up exchanges. The law's drafters just miscalculated: Their law ended up being much less popular than they expected it to be, and state-level resistance to cooperating much stronger.
If the law can't work as written, that's because it was written in a way that made its success depend on state cooperation that hasn't been forthcoming. The Barack Obama administration's decision to pretend that the Affordable Care Act allows tax credits that it doesn't is the most consequential of its many revisions of that law.
The courts should insist that Obamacare is, as its supporters often say, "the law of the land" -- and hold the administration to it. If the result is unworkable, then it will be up to Congress and the president to repeal or replace it.
This column does not necessarily reflect the opinion of Bloomberg View's editorial board or Bloomberg LP, its owners and investors.