Students Face Debt by 1,000 Fees
UCLA's plan to impose a concert fee on students illuminates the dynamics of personal debt crises.
by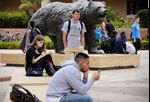 Apparently, the University of California at Los Angeles is finding it hard to get top-notch artists to come play for students. An LA Weekly article by Sarah Purkrabek goes into the complicated business reasons:
Jessica Kim, the former Campus Events Commission commissioner, blames it on a lack of big, viable performance spaces. "Our main venues are Kerckhoff Grand Salon, which has a capacity of about 100, and Ackerman Grand Ballroom, which can hold about 1500 students," she says. Considering UCLA has 28,000 undergrads, that isn't going to cut it.

Sure, the larger Royce Hall and Pauley Pavilion are also options, but Royce rents for about $15,000 and Pauley for up to $80,000 or more, which starts to make bringing in big acts for a free show prohibitively expensive.

Of course, if you simply charged students a nominal entry fee -- as is done at plenty of other schools -- that could help defray the cost. ... Unfortunately, L.A.'s status as a major market for big shows actually hurts the school.

What's known as a "60 day, 60 mile" clause is often included in artists' contracts with venues, says Heller. The idea is that promoters want to make sure the artist doesn't play too close, too soon, so as not to draw business away from their event.

When the concert is only open to students, and free, the 60/60 rule generally doesn't apply. Unfortunately, for the reasons mentioned above, this limits the sizes of the shows.
To solve this problem, UCLA is introducing a $4 student fee to pay for better concerts. That illuminates a budgeting issue in higher education -- and indeed among human beings more generally.
That $4 is not a large fee. Even the poorest student can probably afford it. On the other hand, collectively, UCLA's student fees are significant: more than $3,500, or about a quarter of the mandatory cost of attending UCLA for a year.
Those fees are made up of many items, each trivial individually. Only collectively do they become a major source of costs for students and their families and potentially a barrier to college access for students who don't have an extra $3,500 lying around.
As I've written before, this is a common phenomenon that you see among people who have gotten themselves into financial trouble -- or, for that matter, people who are doing OK but complain that they don't know where the money goes and can't save for the big-ticket items they want. They consider each purchase individually, rather than in the context of a global budget, which means that they don't make trade-offs. Instead of asking themselves "Is this what I want to spend my limited funds on, or would I rather have something else?" they ask "Can I afford this purchase on my income?" And the answer is often "Yes, I can." The problem is that you can't afford that purchase and the other 15 things that you can also, one by one, afford to buy on your income. This is how individual financial disasters occur, and it is also one way that college tuition is becoming a financial disaster for many families.
Colleges seem to be subject to this budget problem in spades, because until very recently, passing on all the costs to the consumer was very easy. Highly motivated coalitions get together to demand something, and eventually the byzantine, quasi-democratic institutional governance often delivers that thing, along with the associated cost. Each of these new demands -- a better gym, a new student center for underrepresented groups, fancy new buildings for alumni to put their names on (but not pay to maintain) -- generates a small individual cost per student. Over time, however, those little individual costs aggregate into college bills that grow much faster than inflation year after year, decade after decade.
If UCLA had had to treat this as a budget problem -- in other words, if they'd had to take money from something else in order to fund the concerts -- then they probably would have decided that "more famous concert headliners" are not a core part of delivering a UCLA education. But instead, they made it part of someone else's budget problem. Someone who is probably just going to sigh and increase the student loan a bit.
Of course, this isn't the only factor causing tuition and fee inflation, but it is a factor causing tuition and fee inflation, and it is probably one of the easiest to control -- at least, from a budget perspective it is. If you're the administrator deputized to tell the students why they can't have a better class of pop star at their free concerts, it probably looks different.
This column does not necessarily reflect the opinion of Bloomberg View's editorial board or Bloomberg LP, its owners and investors.