Is the World Bank Losing Asia?
Feeling underserved by the IMF and the World Bank, Asia is starting to go its own way.
by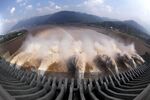 Asia wants a new specialized bank to fill the gaps left by the World Bank and the Asian Development Bank. In contrast to its last effort to create a supranational monetary institution back in the 1990s, it might actually succeed.