How to Tame Argentina's Debt Vultures
Brazil may be out of the World Cup, but it can teach Argentina something about dealing with debt holders.
by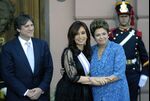 For the superstitious, the Aerolineas Argentina jet that taxied onto the runway in Barcelona, Spain, earlier this week, straight across the path of an inbound Utair Boeing, forcing the Russian airliner to pull up, might have been an omen.
The same day, across the Atlantic, another potential disaster involving airborne Argentines was on the radar. Negotiators from Buenos Aires had landed in New York for further talks over the country's unpaid debt. And every time Argentina's economy minister, Axel Kicillof , boards a plane, bourses and boardrooms quake.
The whip-smart 42-year-old economist, with the tango master's sideburns and Lord Keynes in his book bag, is the bane of international bondholders, some of whom have been at dagger point with the South American nation for the last decade.
For their palate for dud bonds and reputation for preying on debtors in distress, these lenders are often called vultures. Kicillof has been point man in President Cristina Fernandez de Kirchner 's international offensive to repel the varmints, salvage the endangered Argentine debt restructuring, and -- cue the bandoneons -- save global capitalism from itself. The holdouts counter that Buenos Aires has been bullying and arrogant, refusing to negotiate and eager to vilify.
There is merit on both sides. But all combatants might agree that by ordering Argentina to pay the holdouts in full -- a 2012 decision, backed by the U.S. Supreme Court last month -- U.S. federal court judge Thomas Griesa created a crisis of Borgesian complexity. Failing to pay, Argentina will be in contempt of court. Yet if it settles up with the select group of vultures, others may flock, and the bill just for the holdouts could soar to $15 billion.
Then there's the other legal sand trap, the Rights Upon Future Offers (RUFO) clause, which stipulates that if Argentina "voluntarily" makes a better offer to some creditors, other bondholders have a right to the same treatment. Argentina wants Griesa to suspend that clause (which expires Dec. 31) for fear it will have to pony up for all outstanding claims, even to lenders who'd already agreed to brutal write downs in the epic debt negotiations of 2005 and 2010.
And never mind the global blowback. What lender in sound mind would agree to renegotiate debt for a troubled nation knowing that some raptor in suspenders, with clever lawyers, could invalidate the whole deal in court?
Caught between the cross and the sword, Argentina decided to take the crusade public. Here Kirchner has been masterful, sparing neither dollars nor drama. Kirchner has yet to enlist Pope Francis or the Dalai Lama, but she did dispatch Kicillof to the United Nations, the G-77 summit of developing nations, and that high court of Latin American indulgences, the Organization of American States. There, foreign companeros queued at the microphone to lambaste the loan "pirates" and their "neocolonialist" sponsors, bent on the financial version of gunboat diplomacy.
For all the noise, the smart money is on a return to the negotiating table. "The government's main strategy is to reach a settlement with holdout creditors," writes Daniel Kerner of the Eurasia Group. But as vultures and welshers square off, it's useful to think about what the imbroglio portends for the rest of the region.
Short answer: very little. Though a default might send Argentina into recession and dent regional trade (Argentina buys a fifth of Brazil's factory goods) most of the damage may be confined to the River Plate. That's because, with the exception of some profligate populists, Latin America long ago cleaned up its balance sheets, paid down foreign debt, and stopped gaming exchange rates. Foreign reserves are flush: Brazil alone holds about $380 billion. "We're beyond the days of contagion, when a debt crisis in one troubled Latin country could strafe the region," says former Brazilian Finance Minister Mailson da Nobrega.
Though Argentines are busy taunting Brazilians for their defeat in the World Cup, Kirchner's side might take a cue from Brasilia. Two decades ago, Brazil had holdouts of its own: the family of Kenneth Dart, which had made its fortune in Styrofoam, bought heavily into discounted Brazilian debt, then refused to renegotiate.
Instead of going nuclear, the Brazilians outfoxed Dart & family, ordering the state-controlled Banco do Brasil to Hoover up discounted national debt in the secondary market. Once it had surpassed Dart, thanks to a majority rule clause in loan contracts, Brazil overruled Dart, and became a textbook case of how to train your vulture.
This column does not necessarily reflect the opinion of Bloomberg View's editorial board or Bloomberg LP, its owners and investors.